saint
saint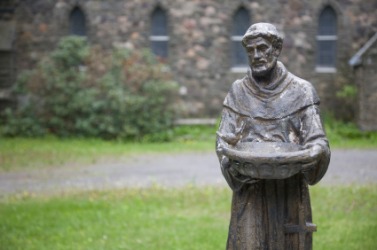 Saint Francis is an example of a saint.
noun
The definition of a saint is a person recognized by certain Christian religions to have lived a holy life and can help sinners when they go to heaven, or a very good, kind, generous and caring person.

An example of a saint is Saint Francis of Assisi.
An example of a saint is a person who spends all her free time volunteering with the homeless.
---
Saint
(died 303?); Christian martyr, possibly from Cappadocia: patron saint of England: his day is April 23

1660-1727; king of Great Britain & Ireland (1714-27), born in Germany: great-grandson of James I

1683-1760; king of Great Britain & Ireland (1727-60), born in Germany: son of George I

1738-1820; king of Great Britain & Ireland (1760-1820): grandson of George II

1762-1830; king of Great Britain & Ireland (1820-30); regent (1811-20): son of George III

1865-1936; king of Great Britain & Ireland (1910-36): son of Edward VII

1895-1952; king of Great Britain & Northern Ireland (1936-52): son of George V

1839-97; U.S. political economist: advocate of the single tax
(6th cent. ); Welsh bishop: patron saint of Wales: his day is March 1

1084-1153; king of Scotland (1124-53)

1748-1825; Fr. neoclassical painter
saint
a holy person
a person who is exceptionally meek, charitable, patient, etc.
those, esp. holy persons, who have died and are believed to be with God

in the New Testament, any Christian
a member of any of certain religious groups calling themselves Saints

in certain Christian churches, a person officially recognized as having lived an exceptionally holy life, and thus as being in heaven and capable of interceding for sinners; canonized person
Origin of saint
Old French ; from Ecclesiastical Late Latin
sanctus
, saint ; from L, holy, consecrated, past participle of
sancire
, to consecrate, akin to
sacer
: see sacred
to make a saint of; canonize
( 376?-444); Christian theologian: archbishop of Alexandria (412-444): his day is June 27

(born Constantine) ( 827?-869); Gr. prelate & missionary; apostle to the Slavs: his day is Feb. 14
(4th cent. ); bishop of Myra: patron saint of Russia, of Greece, & of young people, sailors, etc.: his day is Dec. 6

( 800?-867); pope (858-867): his day is Nov. 13: called the Great

1796-1855; czar of Russia (1825-55)

1868-1918; last czar of Russia (1894-1917); forced to abdicate; executed
( 316?-397?) bishop of Tours: his day is Martinmas

also called Saint Martin of Tours
(born Juan de Yepes y Álvarez) (1542-91); Sp. monk & mystic: his day is Nov. 24
( 251?-356?); Egypt. hermit: founder of Christian monasticism: his day is Jan. 17: called the Great

(1195-1231); Franciscan friar in France & Italy, born in Portugal: his day is June 13

also called

Saint Anthony of Padua

1820-1906; U.S. leader in the movement for women's suffrage
( 354-430); early Christian church father, born in Numidia: bishop of Hippo in N Africa: his day is Aug. 28

(died 604); Rom. monk sent to convert the English to Christianity: 1st archbishop of Canterbury: his day is May 27
( 480?-543?); It. monk: founder of the Benedictine order: his day is July 11

also called

Saint Benedict of Nur′sia

(born Prospero Lambertini) 1675-1758; pope (1740-58)

(born Giacomo della Chiesa) 1854-1922; pope (1914-22)

(born Joseph Alois Ratzinger) 1927-; pope (2005-13)

1887-1948; U.S. anthropologist
(born Winfrid or Wynfrith) ( 675?-754?); Eng. monk & missionary in Germany: his day is June 5

(born Benedetto Caetani) 1235?-1303; pope (1294-1303)
( 452?-523?); Ir. abbess: a patron saint of Ireland: her day is Feb. 1

(1302?-73); Swed. nun: founder of the order of Bri(d)gittines: her day is July 23
---
saint
noun
Christianity

a. Abbr. St. or S. A person officially recognized, especially by canonization, as being entitled to public veneration and capable of interceding for people on earth.

b. A person who has died and gone to heaven.

c. Saint A member of any of various Christian groups, especially a Latter-Day Saint.

A person who is venerated for holiness in a non-Christian religious tradition.
An extremely virtuous person.
transitive verb
saint·ed
,
saint·ing
,
saints
To name, recognize, or venerate as a saint.
To regard or venerate as extremely virtuous.
Origin of saint
Middle English
seint
, from Old French
saint
, from Late Latin
sanctus
, from Latin,
holy
, past participle of
sanc&imacron;re
,
to consecrate
; see
sak-
in Indo-European roots.
---
saint
Noun
(plural saints)
A person to whom a church or another religious group has officially attributed the title of "saint"; a holy or godly person; one eminent for piety and virtue.

Kateri Tekakwitha was proclaimed a saint.

(figuratively, by extension) A person with positive qualities; one who does good.

Dorothy Day was a living saint.
Thanks for looking after the house while I'm away. You're a saint!

One who is sanctified or made holy; a person who is separated unto God's service.

to the assembly of God which is at Corinth; those who are sanctified in Christ Jesus, called to be saints, with all who call on the name of our Lord Jesus Christ in every place, both theirs and ours. (1Cor. 1:2)

One of the blessed in heaven.
Verb
(third-person singular simple present saints, present participle sainting, simple past and past participle sainted)
(nonstandard) To canonize, to formally recognize someone as a saint.

Many wish to see Pope John Paul II sainted immediately.
Origin
From Middle English saint, from Old French saint (Modern French saint), from Latin sanctus ("holy, consecrated, in Late Latin as a noun a saint"), past participle of sancire ("to render sacred, make holy"), akin to sacer ("holy, sacred").
Noun
(plural Saints)
A title given to a saint, often prefixed to the person's name.

"Saint Stephen was the first martyr."
---