noun
The definition of a saint is a person recognized by certain Christian religions to have lived a holy life and can help sinners when they go to heaven, or a very good, kind, generous and caring person.

An example of a saint is Saint Francis of Assisi.
An example of a saint is a person who spends all her free time volunteering with the homeless.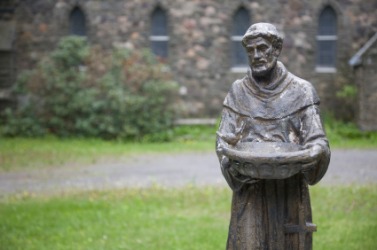 Saint Francis is an example of a saint.
---
Saint definition by Webster's New World
noun
a holy person
a person who is exceptionally meek, charitable, patient, etc.
those, esp. holy persons, who have died and are believed to be with God

in the New Testament, any Christian
a member of any of certain religious groups calling themselves Saints

in certain Christian churches, a person officially recognized as having lived an exceptionally holy life, and thus as being in heaven and capable of interceding for sinners; canonized person
Origin: Old French ; from Ecclesiastical Late Latin sanctus, saint ; from Classical Latin holy, consecrated, past participle of sancire, to consecrate, akin to sacer: see sacred
transitive verb
to make a saint of; canonize
Webster's New World College Dictionary Copyright © 2010 by Wiley Publishing, Inc., Cleveland, Ohio. Used by arrangement with John Wiley & Sons, Inc.
---
Saint definition by American Heritage Dictionary
noun
a. Abbr. St. or S. Christianity A person officially recognized, especially by canonization, as being entitled to public veneration and capable of interceding for people on earth.

b. A person who has died and gone to heaven.

c. Saint A member of any of various religious groups, especially a Latter-Day Saint.

An extremely virtuous person.
transitive verb
saint·ed
,
saint·ing
,
saints
To name, recognize, or venerate as a saint; canonize.
Origin: Middle English seint, from Old French saint, from Late Latin sānctus, from Latin, holy, past participle of sancīre, to consecrate; see sak- in Indo-European roots.
The American Heritage® Dictionary of the English Language, 4th edition Copyright © 2010 by Houghton Mifflin Harcourt Publishing Company. Published by Houghton Mifflin Harcourt Publishing Company. All rights reserved.
---
Saint - Cultural Definition
In Christianity, a holy person, living or dead; a person who has been saved (see salvation) (see also salvation). Saint is the French word for "holy." Many churches reserve the title of saint for persons who have died faithful to their Christian commitment. The Roman Catholic Church and the Eastern Orthodox Church require certain procedures before people can be officially named saints; this procedure is called canonization.
Saint
Variant of saint
noun
a holy person
a person who is exceptionally meek, charitable, patient, etc.
those, esp. holy persons, who have died and are believed to be with God

in the New Testament, any Christian
a member of any of certain religious groups calling themselves Saints

in certain Christian churches, a person officially recognized as having lived an exceptionally holy life, and thus as being in heaven and capable of interceding for sinners; canonized person
Origin: Old French ; from Ecclesiastical Late Latin sanctus, saint ; from Classical Latin holy, consecrated, past participle of sancire, to consecrate, akin to sacer: see sacred
transitive verb
to make a saint of; canonize