angel

an·gel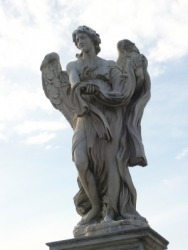 A statue of an angel.
noun
The definition of an angel is a spiritual being, particularly one that is a messenger of God.

Gabriel, Raphael and Michael are each an example of an angel.
---
angel
Theol.

a messenger of God
a supernatural being, either good or bad, to whom are attributed greater than human power, intelligence, etc.

a guiding spirit or influence: one's good angel
a conventionalized image of a white-robed figure in human form with wings and a halo
a person regarded as being as beautiful, good, innocent, etc. as an angel: said esp. of women and children
an English gold coin, last issued in 1634, stamped with an image of the archangel Michael and the dragon

Informal

a supporter who provides money, as for producing a play
a radar echo from something other than an aircraft, as from birds or rain
Origin of angel
Middle English
aungel
from Old French
angele
or Old English
engel
, or directly from Ecclesiastical Late Latin
angelus
(from source Old French and Old English forms) from Ecclesiastical Greek
angelos
, messenger from uncertain or unknown; perhaps
Slang
to support with money
---
angel
noun
A typically benevolent celestial being that acts as an intermediary between heaven and earth, especially in Christianity, Judaism, Islam, and Zoroastrianism.
A representation of such a being, especially in Christianity, conventionally in the image of a human figure with a halo and wings.
angels Christianity The last of the nine orders of angels in medieval angelology. From the highest to the lowest in rank, the orders are: seraphim, cherubim, thrones, dominations or dominions, virtues, powers, principalities, archangels, and angels.
A guardian spirit or guiding influence.

a. A kind and lovable person.

b. One who manifests goodness, purity, and selflessness.

A financial backer of an enterprise, especially a dramatic production or a political campaign.
Origin of angel
Middle English
aungel
from
Old English
engel
or
Old French
angele
both from
Late Latin
angelus
from
Late Greek
angelos
from
Greek
messenger
Related Forms:
an·gel′ic an·gel′i·cal

adjective
---
angel

Verb
(third-person singular simple present angels, present participle angeling, simple past and past participle angeled)
(slang) To support by donating money.
Origin
From Middle English angel, aungel, ængel, engel, from Anglo-Norman angele, angle and Old English ængel, engel ("angel, messenger"), possibly via an early Proto-Germanic *angiluz but ultimately from Latin angelus, from Ancient Greek ἄγγελος (ángelos, "messenger"). Cognate with Scots angel ("angel"), West Frisian ingel ("angel"), Dutch engel ("angel"), Low German engel ("angel"), German Engel ("angel"), Swedish ängel ("angel"), Icelandic engill ("angel"), Gothic (aggilus, "angel, messenger").
Proper noun
A surname​ originating as a nickname or, rarely, as a patronymic.
A female given name of modern usage from the English noun angel.
(baseball) A player on the team the "Los Angeles Angels of Anaheim".
---
angel - Investment & Finance Definition
A wealthy individual who agrees to invest money with a start-up company in what is likely its first funding. Angels invest even before venture capital firms do so. Typically, the amount of money invested by an angel is smaller than the amount that would be received from a venture capitalist, and may be $10,000 up to about $200,000. Angel also is used in the context of a fallen angel, which is a bond that has been reduced to junk status.
---