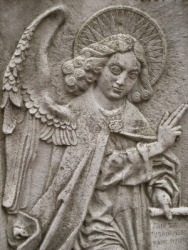 A depiction of the Archangel Gabriel.
---
Gabriel
noun
a masculine name; dim. Gabe; fem. Gabriella, Gabrielle

Bible

one of the archangels, the herald of good news: Dan. 8:16; Luke 1:26
Origin of Gabriel
Classical Hebrew (language)
gavriel
, literally uncertain or unknown; perhaps man of God ; from
gever
, man +
el
, God
---
Gabriel
noun
In the Bible, an angel who explained signs from God and announced the conception, birth, and mission of Jesus to Mary. In Islamic tradition, Gabriel is believed to have revealed the Koran to Muhammad.
---
Gabriel
Proper noun
A male given name.
A patronymic surname​.
---