halo
[hā′lō]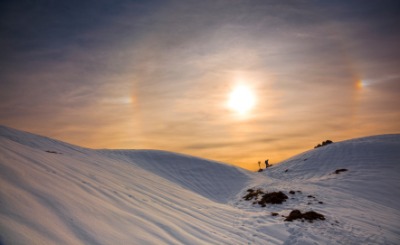 A halo surrounding the sun.
noun
The definition of a halo is a ring of light that encircles something bright, or a ring of light over the head of an angel or other spiritual being, or a feeling of glory or reverence that surrounds a person or thing.

An example of a halo is a ring of light around the moon.
An example of a halo is the feeling that all children in a family are special because the parents are special; the halo effect.
---
halo
noun
pl. halos or haloes
a ring of light that seems to encircle the sun, moon, or other luminous body: it results from the refraction of light through ice crystals in our atmosphere
a spherical distribution of stars and star clusters extending beyond the main body of certain galaxies, as the Milky Way

a symbolic disk or ring of light shown around or above the head of a saint, etc., as in pictures; nimbus: often used as a symbol of virtue or innocence
the splendor or glory with which a famed, revered, or idealized person or thing is invested
Origin of halo
Classical Latin
halos
(gen. and amp; accusative
halo
) ; from Classical Greek
halōs
, circular threshing floor, round disk of the sun or moon, hence halo around the sun or moon ; from
halein
, to grind ; from Indo-European base an unverified form
al-
, to grind from source Armenian
ałam
, grind, Hindi
āṭā
, meal
of the sea: halobiont
having to do with a salt: halophyte
having to do with a halogen: haloid
Origin of halo-
; from Classical Greek
hals
(gen.
halos
), salt, hence sea
---
halo
noun
pl.
ha·los
or
ha·loes
a. A luminous ring or disk of light surrounding the heads or bodies of sacred figures, such as saints, in religious paintings; a nimbus.

b. A ring or disk resembling the halo of a sacred figure: "She had a halo of red hair floating over a delicate ivory face" (Judith Ortiz Cofer).

c. A feeling of glory, reverence, or admiration associated with a person or thing: "By the 1930s, insulin's halo had begun to tarnish, for it became clear that patients who had the illness &ellipsis; were prone to problems of the small blood vessel" (James S. Hirsch).

a. A circular band of colored light around a light source, as around the sun or moon, caused by the refraction and reflection of light by ice particles suspended in the intervening atmosphere.

b. A roughly spherical region of relatively dust-free space surrounding a galaxy and extending beyond the visible parts of the galaxy. Galactic halos contain stars (often located in globular clusters), gas, and dark matter.
transitive verb
ha·loed
,
ha·lo·ing
,
ha·loes
To encircle with a halo.
Origin of halo
Medieval Latin
halō
, from accusative of Latin
halōs
, from Greek,
threshing floor, disk of or around the sun or moon
.
halo
solar halo
or hal–
prefix
Salt: halophyte.
Halogen: halocarbon.
Origin of halo-
French, from Greek, from
hals, hal-
,
salt, sea
; see
sal-
in Indo-European roots.
---
halo
Acronym
HALO
(aviation, parachuting) High Altitude, Low Opening. — a type of skydiving, where you leave the launch platform from a high altitude, and open the parachute at a very low altitude.

When you have enough experience, you can do a HALO jump.

Hazardous Area Life-Support Organisation
HALO also means High Altitude, Low Orbiting. As used in reference to certain aviation crafts. For example, weather balloons, when at maximum altitude are considered HALO's.
---