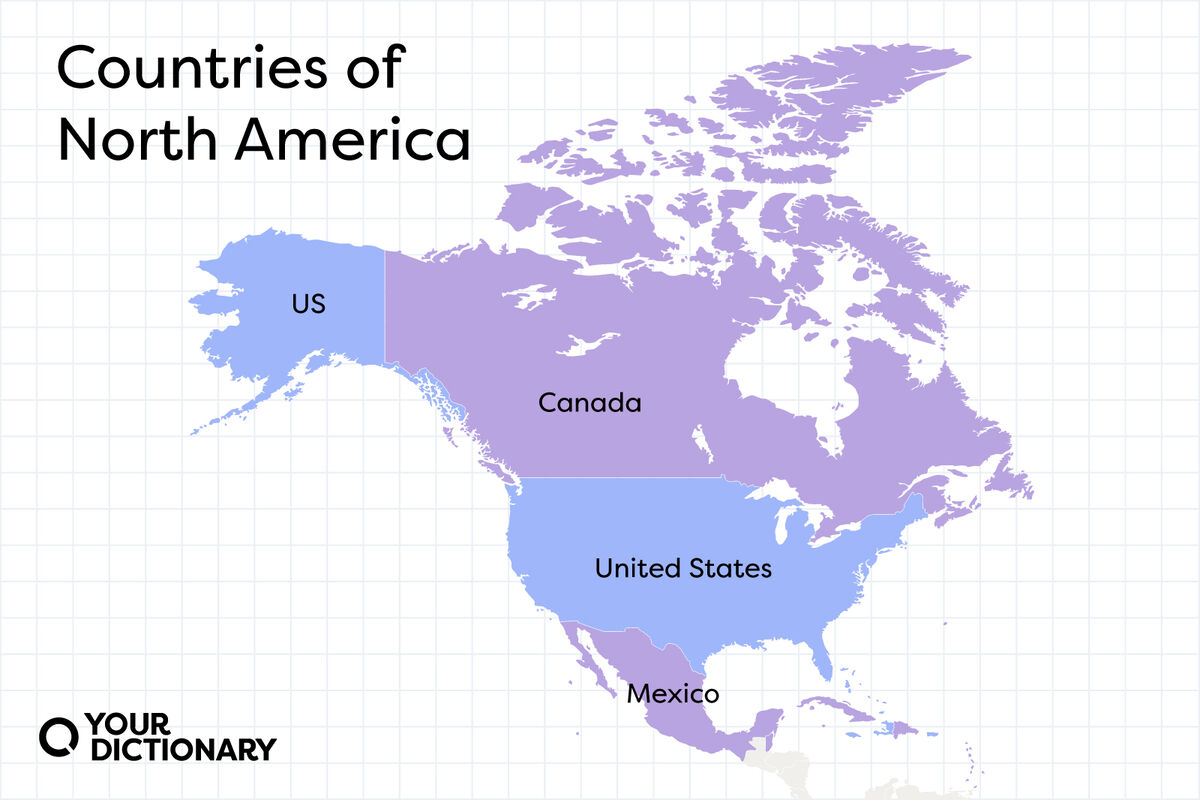 When you think of North America, you probably think of Canada, the United States and Mexico. But when you add all the countries in the Caribbean, there are more countries in the North American continent than you think! Keep reading to learn how many countries are in North America, as well as how many territories there are.
What Countries Are in North America?
So, how many countries are in North America? You may hear that North America has anywhere between 3 and 23 countries. So how many North American countries are there, really? When you combine them all (plus the Central American countries) you get 23. However, most lists split them into Northern American countries and Caribbean countries, which brings the total to 16 North American countries and 7 Central American countries.
Northern American Countries
There are three countries on the North American continent: Canada, Mexico and the United States of America. They are the largest countries in North America in terms of both size (over 20 million total square kilometers, 8 million square miles) and population (over 84% of the total North and Central American population).
At nearly 10 million square kilometers or over 3.8 million square miles, Canada is the largest country in North America and the second-largest country in the world (Russia is the first). However, with a population of around 38 million people, it is only the 37th most populous world country due to much of its northern geography (80%) being uninhabitable. Canada's official languages are English and French, with Quebec being the main French-speaking Canadian province.
Is Mexico part of North America? It certainly is. Twenty-two percent of North and Central American citizens (130 million people) live in the country of Mexico, making it the most populous Spanish-speaking country in the world. Mexico borders the Pacific Ocean on its west coast and the Gulf of Mexico on its east coast. Its area is just under 2 million square kilometers or 761,600 square miles.
The United States of America (USA)
In between Canada and Mexico lies the United States, where over half of the entire North and Central American population lives. The United States is home to over 330 million people and spans an area of over 9 million square kilometers or nearly 3.8 million square miles. Although there is no official language in the United States, 78% of its population speaks English, while a significant minority (over 13%) speaks Spanish.
Caribbean Countries in North America
Can you believe that there are over 7,000 islands in the Caribbean? Countries in the Caribbean Sea (or "West Indies," as coined by European colonizers) are much smaller than the continental North American countries, both in terms of area and population. The history of both European exploration and indigenous people have led to distinctive cultures and languages across sovereign island countries of the Caribbean.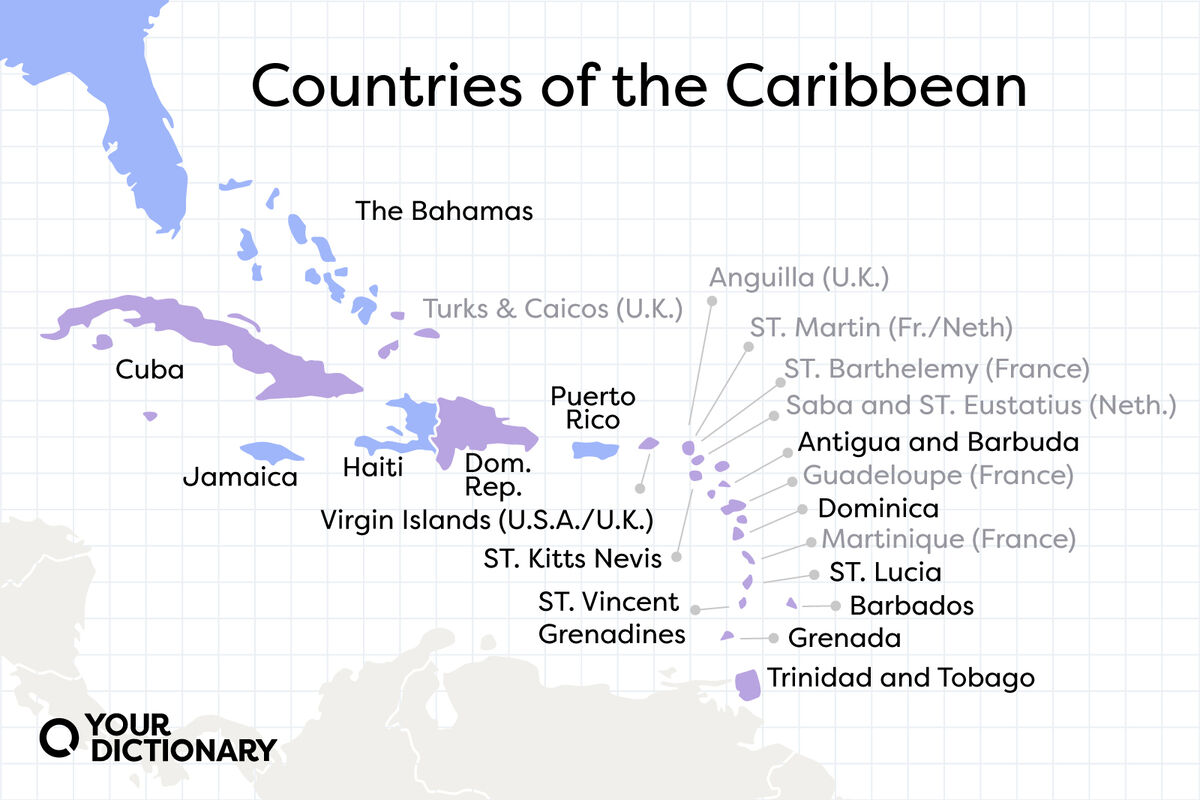 Antigua and Barbuda is one country comprised of two main islands and many smaller islands, and its total area is 442 square kilometers (170 square miles). NInety-seven percent of the country's population (under 100,000 people) lives on the island of Antigua, and the majority of the population speaks Antiguan and Barbudan Creole. Antigua and Barbuda are part of the British Commonwealth, a voluntary association of states that are now sovereign but primarily used to be British colonies.
The Bahamas, formally known as the Commonwealth of The Bahamas, include over 700 islands and islets. Nearly 400,000 people live in The Bahamas, many of whom are descendants of freed slaves after Britain abolished slavery in the early 19th century. The total area of The Bahamas is 13,943 square kilometers (5,358 square miles) and its official language is English, as it is also a member of the British Commonwealth.
The easternmost island of the Caribbean is Barbados, which stretches over 432 square kilometers or 167 square miles. Like Antigua and Barbuda and The Bahamas, Barbados is also part of the British Commonwealth. Over 250,000 people live in Barbados, most of whom speak either English or Bajan Creole.
The Republic of Cuba is the largest country in the Caribbean region at 109,886 square kilometers (42,426 square miles). Over 11 million people live in Cuba, where the official language is Spanish. Cuba was a Spanish colony until the Spanish-American War, in which the United States occupied Cuba as a protectorate until its Communist revolution of 1959.
Even though only 0.01% of the North and Central American population lives in Dominica, it's still quite popular for tourists to visit. Dominica has just over 72,000 citizens living in 751 square kilometers (290 square miles). Unlike the similarly-named Dominican Republic, Dominica's official language is English, and it is located close to Venezuela in South America.
Located on the island of Hispaniola, the Dominican Republic covers 48,671 square kilometers (18,704 square miles) of land. It is home to nearly 11 million people, and it is the most ethnically diverse country in the Caribbean. The official language of the Dominican Republic is Spanish.
Grenada is the second-smallest country in the Caribbean at 344 square kilometers or 134 square miles. The population of Grenada is over 113,000 people, and the languages spoken include English, Grenadian Creole and French. Grenada is a member of the British Commonwealth and falls under the Queen's authority.
Haiti is the other country on the island of Hispaniola (next to the Dominican Republic). With over 11.5 million citizens, Haiti is the second-most populous Caribbean Island after Cuba. It's just under half as large as its island neighbor at 27,750 square kilometers or 10,714 square miles. People in Haiti speak both French and Haitian Creole.
Jamaica is an English-speaking country in the British Commonwealth, though many citizens speak Jamaican Creole. Like most countries in the Caribbean, today's population of Jamaicans are primarily descendants of indigenous people (the Taino tribe) and African slaves. Jamaica is home to around 3 million people and its area is 10,991 square kilometers or 4,244 square miles.
Saint Kitts and Nevis is the smallest Caribbean country in terms of both size (261 square kilometers, or just over 100 square miles) and population (around 53,000 people). The island of Anguilla, a British territory, used to be included in Saint Kitts and Nevis (Saint Christopher-Nevis-Anguilla); however, it chose to remain under British rule when Saint Kitts and Nevis declared sovereignty. The official language is English with a widely-spoken vernacular of Saint Kitts Creole.
Previously occupied by the Arawak and native Carib people, the island of Saint Lucia was colonized by French explorers in the 17th century. Due to wars between France and England during that period, control of Saint Lucia frequently changed hands until it became a sovereign nation in 1979. Over 180,000 people in Saint Lucia speak a combination of English, French and Saint Lucian Creole.
Saint Vincent and the Grenadines
Saint Vincent (as it's typically called) consists of 32 islands totaling 369 square kilometers, or 142 square miles. Many of these islands are inhabited, but some aren't. Over 110,000 people live in the English-speaking country, primarily in the capital city of Kingstown.
The Republic of Trinidad and Tobago lies just off the shore of Venezuela, where it is the southernmost Caribbean country and home to nearly 1.5 million citizens. The five islands in Trinidad and Tobago total 5,130 square kilometers or 1,980 square miles. Unlike most other Caribbean countries, the majority ethnic group there is Indian due to the island's history of British colonizers using indentured laborers from East India.
Dependent Territories in North America
While sovereign nations make up a lot of the area and population in the Caribbean, there are many more populated islands that are dependent on other established countries. The power in these territories has often changed hands as world leaders fought major wars and made land deals.
During the age of European exploration between the 15th century and the 19th century, imperialist Britain controlled so many territories that "the sun never set on the British Empire." While those days are lost to history, there are still a number of British Overseas Territories in North America, including:
Anguilla (91 km2/31 mi2, population 15,000)
Bermuda (54 km2/20 mi2, population 62,000)
British Virgin Islands (151 km2/59 mi2, population 30,000)
Cayman Islands (264 km2/100 mi2, population 65,000)
Montserrat (102 km2/39 mi2, population 5,000)
Turks and Caicos (948 km2/161 mi2, population 38,000)
Denmark controls only one territory in North America, but at 2,166,086 square kilometers (836,300 square miles), it is almost 50 times as large as Denmark itself. Greenland is geographically located in North America but has been politically aligned with Europe for centuries. Eighty-nine percent of the population of Greenland is Inuit, the indigenous people of the territory, and the official language is Greenlandic.
The Kingdom of the Netherlands consists of four constituent countries (Aruba, Curaçao, Sint Maarten, and the Netherlands) as well as territories held by the historical Dutch Empire. Known collectively as the BES islands, these territories include:
Bonaire (294 km2/111 mi2, population 20,000)
Saba (13 km2/5 mi2, population 2,000)
Sint Eustatius (21 km2/8 mi2, population 3,000)
About one-quarter of Caribbean citizens speak French or a French creole. They live in the countries of Haiti, Dominica and Saint Lucia, as well as in the French Caribbean territories:
Clipperton Island (6 km2/2 mi2, uninhabited)
Guadeloupe (1,628 km2/629 mi2, population 400,000)
Martinique (1,128 km2/436 mi2, population 375,000)
Saint Barthelemy (21 km2/9 mi2, population 10,000)
Saint Martin (54 km2/20.5 mi2, population 38,000)
Saint Pierre and Miquelon (242 km2/93 mi2, population 6,000)
United States Territories
Although the United States itself came from a European-controlled colony, it also has a global presence in dependent territories. The United States controls five territories around the world, two of which are nearby in the Caribbean sea:
Puerto Rico (8,870 km2/3,515 mi2, population 2.8 million)
U.S. Virgin Islands (347 km2/133.5 mi2, population 104,000)
North America has an abundance of natural resources, diverse populations and national languages. But it's certainly not the only continent on Earth to share these qualities! Now that you know how many countries are in North America, take a look at a list of the countries of Asia to learn more about the largest continent on the planet, or learn more about the different countries of the Middle East and the oldest civilizations in human existence.