sanctify

sanc·ti·fy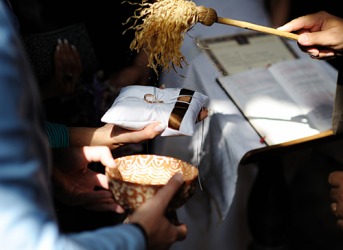 The priest sprinkles holy water on the bride and groom's wedding rings to sanctify their marriage.
verb
Sanctify is to make something holy, give something legitimacy or to set something apart through religious ceremony.

When a priest blesses a marriage and gives it validity in the eyes of a church, this is an example of a time when the priest sanctifies the marriage.
---
sanctify
transitive verb
-·fied·

,

-·fy·ing
to make holy; specif.,

to set apart as holy; consecrate
to make free from sin; purify

to make binding or inviolable by a religious sanction
to make productive of spiritual blessing
to make seem morally right or binding: a practice sanctified by custom
Origin of sanctify
Middle English
sanctifien
, altered (infl. by L) from Old French
saintifier
from Ecclesiastical Late Latin
sanctificare
: see saint and -fy
---
sanctify
transitive verb
sanc·ti·fied, sanc·ti·fy·ing, sanc·ti·fies
To set apart for sacred use; consecrate: The preacher sanctified the ground as a cemetery.
To make holy; purify: They felt the spirit had descended and sanctified their hearts. They sanctified the body with holy oil.
To give religious sanction to, as with an oath or vow: The wedding ceremony sanctifies the marriage.
To give social or moral sanction to: "The only books I wanted to read as a teenager were those sanctified by my elders and betters" ( David Eggers )
Origin of sanctify
Middle English
seintefien, sanctifien
from
Old French
saintifier
from
Late Latin
sānctificāre
Latin
sānctus
holy
from past participle of
sancīre
to consecrate
; see
sak-
in Indo-European roots.Latin
-ficāre
-fy
Related Forms:
---
sanctify

Verb
(third-person singular simple present sanctifies, present participle sanctifying, simple past and past participle sanctified)
Origin
From Late Latin sānctificō, from Latin sānctus ("holy") + faciō ("do, make").
---