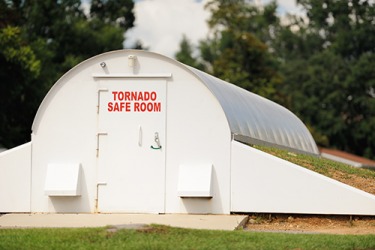 The shelter is a safe harbor whenever a tornado warning is issued.
noun
The definition of a safe harbor is a place that provides safety.

An example of a safe harbor is a shelter during a storm.
An example of a safe harbor in law is when a person is protected who may act against the law but have good intentions behind it such as the protection of a person who stole a piece of bread to save a starving, dying child.
An example of a safe harbor in broadcasting is the time period from 10 p.m. to 6 a.m. where television can show programs which are not suitable for children such as a 2 a.m. showing of a R-rated film.
An example of a safe harbor on the Internet is a statute protecting Internet service providers from the actions of users such as protection for Google against users who use it for illegal purposes.
---
safe-harbor

Noun
(plural safe harbors)
A safe haven.
(business, law) A statutory, regulatory, or contractual provision that provides protection, usually from a penalty or liability.
---