safeguard

safe·guard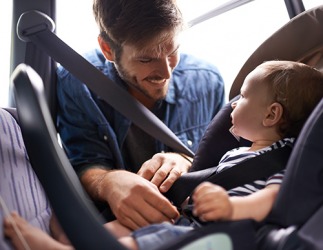 Ryan buckled his son in a car seat as a safeguard.
noun
The definition of a safeguard is someone or something that reduces or eliminates the risk of something undesirable happening.

A water alarm put under a dishwasher to prevent a flood if the dishwasher leaks is an example of a safeguard.
---
safeguard
any person or thing that protects or guards against loss or injury; specif.,
a precaution or protective stipulation
a permit or pass allowing safe passage

Now Rare

a convoy or guard
a safety device, as on machinery
Origin of safeguard
Middle English
saufgarde
from Middle French
sauvegarde
: see save and guard
---
safeguard
noun
Something that provides protection against attack, loss, or injury, as:
a. A precautionary measure: The doctor prescribed antibiotics as a safeguard against infection.
b. A mechanical device designed to prevent accidents or injury.
c. A protective stipulation, as in a contract.
d. A safe-conduct.
transitive verb
safe·guard·ed, safe·guard·ing, safe·guards
To ensure the safety or integrity of; protect or preserve:
a strategy to safeguard the country from attack; investments that can help safeguard one's savings.
See Synonyms at
defend
.
---
safeguard

Noun
(plural safeguards)
Something that serves as a guard or protection; a defense.

Getting a flu shot is a good safeguard against illness.

One who, or that which, defends or protects; defence; protection.
A safe-conduct or passport, especially in time of war.
Verb
(third-person singular simple present safeguards, present participle safeguarding, simple past and past participle safeguarded)
---
safeguard - Computer Definition

A feature, procedure, process, or technique intended to mitigate the effects of intrusion risk but that rarely if ever eliminates all risk. It does reduce risk to some acceptable organizational or institutional level.
See Also: Risk.
Symantec Security Response. Glossary. [Online, July 15, 2004.] Symantec Security Response Website. http://securityresponse.symantec.com/avcenter/refa.html.
---