war

war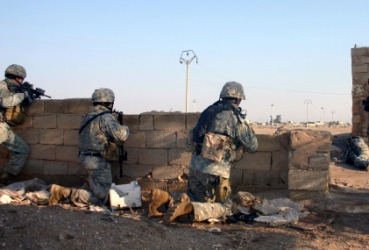 A war scene.
noun
War is an armed conflict within a country or between countries.

An example of a war is the conflict between the United States and Iraq.
---
war
open armed conflict between countries or between factions within the same country
any active hostility, contention, or struggle; conflict: the war against disease

Obs.

a battle
military operations as a profession or science
Origin of war
Middle English
werre
from Norman French from Frankish an unverified form
werra
, confusion, strife, akin uncertain or unknown; perhaps to Old High German
(fir)werran
, to confuse from uncertain or unknown; perhaps
of, used in, or resulting from war
intransitive verb
warred

,

war′ring
to carry on war; engage in military conflict
to be in a state of hostility or contention; contend; strive
at war
in a state of active armed conflict
declare war (on)
to make a formal declaration of being at war (with)
to announce one's hostility (to)
go to war
to enter into a war
to become a member of the armed forces during a war
Origin of war
Middle English from Old Norse
verre
, adjective ,
verr
, adv.; akin to Old High German
werran
, to confuse
---
war
noun
a. A state of open, armed, often prolonged conflict carried on between nations, states, or parties.

b. The period of such conflict.

c. The techniques and procedures of war; military science.

a. A condition of active antagonism or contention: a war of words; a price war.

b. A concerted effort or campaign to combat or put an end to something considered injurious: the war against acid rain.
intransitive verb
warred, war·ring, wars
To wage or carry on warfare.
To be in a state of hostility or rivalry; contend.
Origin of war
Middle English
werre
from
Old North French
of Germanic origin
; see
wers-
in Indo-European roots.
Word History:
War
can be traced back to the Indo-European root
*wers-,
"to confuse, mix up." In the Germanic family of the Indo-European languages, this root gave rise to several words having to do with confusion or mixture of various kinds. One was the noun
*werza-,
"confusion," which in a later form
*werra-
was borrowed into Old French, probably from Frankish, a largely unrecorded Germanic language that contributed about 200 words to the vocabulary of Old French. From the Germanic stem came both the form
werre
in Old North French, the form borrowed into English in the 1100s, and
guerre
(also the source of
guerrilla
) in the rest of the Old French-speaking area. Both forms meant "war." Meanwhile another form derived from the same Indo-European root had developed into a word denoting a more benign kind of mixture, Old High German
wurst,
meaning "sausage." Modern German
Wurst
was borrowed into English in the 1800s.
---
war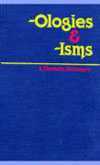 See also conflict; killing; weaponry.
angary
the right of a nation at war to destroy the property of a neutral, subject to indemnification.
antiterrorism
the techniques, policies, and training of special police who deal with terrorists, especially those who take hostages. —
antiterrorist
,
adj.
armistice
a temporary cessation of hostilities, by agreement between the belligerents, prior to the negotiation or signing of a peace treaty.
bellicism
the advocacy of war.
Cf. pacifism
. —
bellicist
,
n.
belligerence
the state of being hostile or at war. —
belligerent
,
n., adj.
copperheadism
any expression of sympathy for the Confederate cause in the American Civil War. —
copperhead
,
n.
demilitarization
the process of demilitarization or removal of military activity or control from an area.
demobilization
the process of being demobilized or mustered out of the military.
disarmament
the reduction in size of military forces, by treaty, following defeat, etc. Also
Obsolete,
disarmature.
disarmature
Obsolete.
disarmament.
doveism, dovism
the advocacy of peace or a conciliatory national attitude, especially on the part of a public official.
Cf. hawkism
. —
dove
,
n.
—
doveish
,
adj.
gigantomachy
1.
a war between giants, as in mythology.
2.
war between large contestants, as major powers.
guerrillaism
the practice and philosophy of guerrilla warfare.
hawkism
the advocacy of war or a belligerent national attitude, especially on the part of a public official.
Cf. doveism
. —
hawk
,
n.
—
hawkish
,
adj.
hostility
1.
a feeling or state of antagonism.
2.
an expression or act of war. —
hostile
,
adj.
insurgence
insurgency.
insurgency, insurgence
1.
the state or condition of being in revolt or insurrection.
2.
an uprising. —
insurgent
,
n., adj.
irenicism
an advocacy of peace and conciliation. —
irenicist
,
n.
logistics
the branch of military science concerned with the movement and supply of troops. —
logistician
,
n.
martialism
1.
an inclination to belligerency; bellicosity.
2.
the qualities of a military existence. —
martialist
,
n.
militancy
1.
the state or condition of being combative or disposed to fight.
2.
the active championing of a cause or belief. —
militant
,
n., adj.
militarization
the process of preparing for war; mobilization of troops or of an area.
monomachy, monomachia
single combat, or a duel. —
monomachist
,
n.
naumachia, naumachy
1.
a mock sea fight, as in ancient Rome.
2.
the flooded arena where such fights were conducted.
navalism
the maintaining of naval interests. —
navalist
,
n.
neutrality
the state or position of being impartial
or
not allied with or committed to either party or viewpoint in a conflict, especially a war or armed conflict, —
neutral
,
adj.
pacifism
1.
an opposition to war or violence of any kind.
2.
the principle or policy of establishing and maintaining universal peace.
3.
nonresistance to aggression.
Cf. bellicism.
—
pacifist
,
n.
—
pacifistic
,
adj.
pillage
1.
the act of plundering or large scale robbery, usually accompanied by violence as in wartime.
2.
plundered property; booty.
poliorcetics
the art of siegecraft. —
poliorcetic
,
adj.
sabotage
destruction of or damage to equipment, installations, etc, in an industrial context, as in a labor dispute, or in a military context, as in the action of partisan or resistance movements. —
saboteur
,
n.
siegecraft
the science or craft of laying or carrying out sieges.
soldiery
soldiership or military science or craft.
spoliation
the process of robbing or plundering, especially in time of war and on a large scale. See also
church
;
ships
.
stratography
the art of directing an army. —
stratographer
,
n.
tactician
a person skilled in the art of tactics, in a military or other sense.
tactics
1.
the art or science of disposing or managing military forces to best advantage against the enemy.
2.
a skill or resource management in other contexts.
Titanomachy
battle between Titans, referring to the unsuccessful revolt of the family of Iapetus against Zeus.
trierarchy
an ancient Athenian policy allowing private citizens, as part of their civic duty, to fit out triremes for the defense of the city.
warcraft
the science, art, or craft of war.
---
war

---
war - Computer Definition
(Web ARchive) A file that makes up a Java-based Web application including servlets, JSPs and other resources. A WAR file is a JAR file (a ZIPPED archive) that is designed to be decompressed to a specific directory structure for execution. WAR files can be unzipped using a PKUNZIP utility. See JAR and EAR.
---