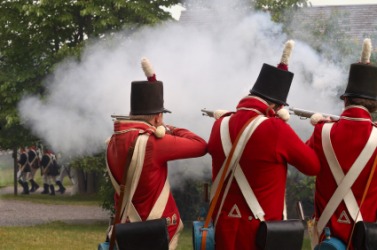 A reenactment of a battle in the War of 1812.
noun
The definition of a battle is a fight or conflict with or without weapons.

An alcoholic trying to stay sober is an example of a battle with alcoholism.
The British-American War of 1812 is an example of a famous battle.
verb
Battle is defined as to fight someone or something with or without weapons.

An example of a person who battles is one who has a video game match with a friend.
A person who has cancer and is doing everything they can to beat it is an example of someone who battles their disease.
---
battle
a fight, esp. a large-scale engagement, between armed forces on land, at sea, or in the air
armed fighting; combat or war
any fight or struggle; conflict

Archaic

a battalion
Origin of battle
Middle English and Old French
bataille
from Vulgar Latin
battalia
from Classical Latin
battualia
, exercises of gladiators and soldiers in fighting and fencing from
battuere
: see batter
transitive verb
-·tled

,

-·tling
to oppose as in a battle; fight
to try to overcome; struggle against or contend with: a patient battling cancer
to take part in a battle; fight
to struggle; contend
give battle
to engage in battle; fight
transitive verb
-·tled

,

-·tling
Archaic
to build battlements on
---
battle
noun
a. An encounter between opposing forces: an important battle in the Pacific campaign.

b. Armed fighting; combat: wounded in battle.

A match between two combatants: trial by battle.

a. A protracted controversy or struggle: won the battle of the budget.

b. An intense competition: a battle of wits.
verb
bat·tled, bat·tling, bat·tles
verb
intransitive
To engage in or as if in battle.
verb
transitive
To fight against: battled the enemy; battled cancer.
Origin of battle
Middle English
batel
from
Old French
bataille
from
Vulgar Latin
battālia
from
Late Latin
battuālia
fighting and fencing exercises
from
Latin
battuere
to beat
Related Forms:
---
battle

---