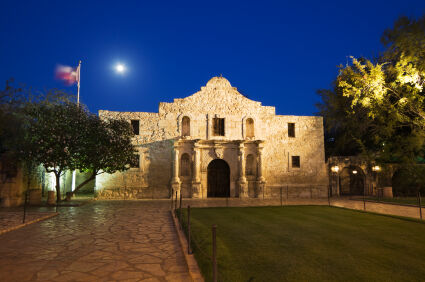 "Remember the Alamo!" It's a quote familiar to any good Texan and a classic line from American history, but where did it originate?
No one knows for certain who first said, "Remember the Alamo." The last stand of the Texian and Tejano soldiers at the Alamo mission - that is, American and Mexican settlers who fought together for an independent Texas - became the rallying cry for Texas independence. By the Battle of San Jacinto, only a month or so later, it was a common enough phrase that General Sam Houston -- who would become one of Texas's first senators and after whom the city of Houston is named -- referenced it when he rallied his troops.
The Mission San Antonio de Valero, also known as the Alamo, was commissioned by the Spanish government in 1718, along with military structures that would form the foundation of the city of San Antonio. The Alamo was built to meet the needs of Spanish Catholic missionaries and American Indian converts to Catholicism.
The Alamo served in that capacity until 1793, when the land and buildings were secularized and ceded to the ruling Spanish government. After its secularization, the Alamo began to take on a more military character. The buildings were used as a political prison during the Mexican War of Independence, and between 1806 and 1812, they also served as San Antonio's first hospital.
After Mexico won its independence, the Alamo became a Mexican possession. Mexican soldiers garrisoned the Alamo until 1835, when Texian soldiers laid siege and eventually captured it. The famous battle came less than a year later.
The Battle of the Alamo can be summarized as follows:
February 23, 1836 - Antonio Lopez de Santa Anna reaches San Antonio with a regiment of the Mexican army. The Texians and Tejanos are forced to retreat into the Alamo Mission, which was previously stocked with supplies from the Mexican army.
March 6, 1836 - Santa Anna attacks the Alamo with his forces. The standoff takes 13 days but in the end, all of the Texians inside the Alamo are killed. Women, children and one slave escaped the carnage.
April 21, 1836 - The Texian army meets Santa Anna's forces at the Battle of San Jacinto and defeats them. This battle marks the end of the land battle for the Texas War of Independence.
Texas has a complex history, and the Alamo is the symbolic center of it. That brave last stand carries with it great historical resonance, and the battle cry "Remember the Alamo" embodies it all. Its iconic significance extends beyond Sam Houston's rallying cry leading into the Battle of San Jacinto.
For more on the battle for Texas independence, take a look at our biographies of Sam Houston and Stephen Austin. For more on Texas, have a look at our page of quotes about the state. Did you know Davy Crockett once described the Lone Star State as "the garden spot of the world"?