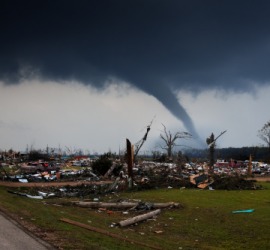 The havoc of a tornado.
noun
Havoc is defined as a lot of destruction or chaos.

An example of havoc is the damage from a hurricane.
---
havoc
great destruction and devastation, as that resulting from hurricanes, wars, etc.
Origin of havoc
earlier especially in phrase cry havoc (see below) from Middle English and Anglo-French
havok
from Old French
havot
, probably from
haver
, to hook, take,
hef
, a hook from Frankish an unverified form
haf-
, to seize: for Indo-European base see have
transitive verb
-·ocked

,

-·ock·ing
Obs.
to lay waste; devastate
cry havoc
Archaic

to give (an army) the signal for pillaging
to warn of great, impending danger
play havoc with
to devastate; destroy; ruin
---
havoc
noun
Widespread destruction; devastation.
Disorder or chaos: a wild party that created havoc in the house.
transitive verb
hav·ocked, hav·ock·ing, hav·ocs
To destroy or pillage.
Origin of havoc
Middle English
havok
from
Anglo-Norman
(crier) havok
(to cry) havoc
variant of
Old French
havot
plundering
of Germanic origin
---
havoc

Noun
(usually uncountable, plural havocs)
widespread devastation, destruction

1918, Edgar Rice Burroughs, The People that Time Forgot, edition HTML, The Gutenberg Project, published 2008:

But when I had come to that part of the city which I judged to have contained the relics I sought I found havoc that had been wrought there even greater than elsewhere.
Usage notes
The noun havoc is most often used in the set phrase wreak havoc.
Verb
(third-person singular simple present havocs, present participle havocking, simple past and past participle havocked)
To pillage.
To cause havoc.
Usage notes
As with other verbs ending in vowel + -c, The gerund-participle is sometimes spelled havocing, and the preterite and past participle is sometimes spelled havoced; for citations using these spellings, see their respective entries. However, the spellings havocking and havocked are far more common. Compare panic, picnic.
Origin
From Anglo-Norman havok in the phrase crier havok ("cry havoc") a signal to soldiers to seize plunder, from Old French crier ("cry out, shout") + havot ("pillaging, looting").
---