sack

sack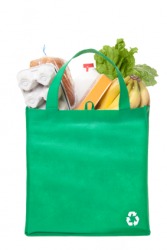 A reusable grocery sack.
noun
The definition of a sack is a bag used for putting things in or a bag that already contains something.

An example of a sack is a reusable grocery bag.
verb
To sack is a slang term that is defined as to fire someone from their job.

An example of sack is when a clerk is dismissed from their job because they took money from the register.
---
sack
a bag, esp. a large one of coarse cloth, for holding grain, foodstuffs, etc.
such a bag with its contents

the quantity contained in such a bag: a measure of weight of varying amounts

a short, loosefitting jacket worn by women
shift (noun)

Slang

dismissal from a job; discharge: with the

Slang

a bed, bunk, etc.

Baseball

base (noun)

Football

the act of sacking a passer
Origin of sack
Middle English
sak
from Old English
sacc
, akin to Old High German
sac
, Gothic
sakkus
from early Germanic borrowing from Classical Latin
saccus
, bag, in LL(Ec), sackcloth garment from Classical Greek
sakkos
from Sem: compare Classical Hebrew (language)
sak,
Akkadian
shaqqu,
sackcloth
to put into a sack or sacks

Slang

to dismiss (a person) from a job; discharge

Football

to tackle (a passer who is attempting a forward pass)
sack in
Slang
hit the sack
to stay in bed longer than usual
the plundering or looting, esp. by soldiers, of a captured city or town
Origin of sack
Middle French
sac
from Italian
sacco
, plunder, literally , bag from Classical Latin
saccus
: see sack
to plunder or loot (a captured city, etc.)
any of various dry white wines from Spain or the Canary Islands, popular in England during the 16th and 17th cent.
Origin of sack
earlier
(wyne)seck
from French
(vin)sec
, dry (wine) from Classical Latin
siccus
, dry (see siccative); spelling, spelled influenced, influence by uncertain or unknown; perhaps Spanish (
vino de) saca
, (wine for) export from
sacar
, to remove
---
sack
noun
a. A bag, especially one made of strong material for holding grain or objects in bulk.

b. The amount that a sack can hold: sold two sacks of rice.

also sacque A short loose-fitting garment for women and children.
Slang Dismissal from employment: finally got the sack after a year of ineptitude.
Informal A bed, mattress, or sleeping bag: hit the sack at 10:00.
Baseball A base.
Football A successful attempt at sacking the quarterback.
transitive verb
sacked, sack·ing, sacks
To place into a sack: sacked the groceries.
Slang To discharge from employment: sacked the workers who were caught embezzling. See Synonyms at dismiss.
Football To tackle (a quarterback attempting to pass the ball) behind the line of scrimmage.
Phrasal Verbs:
sack out
Slang
To sleep.
Origin of sack
Middle English
from
Old English
sacc
from
Latin
saccus
from
Greek
sakkos
of Semitic origin
śqq
Word History:
The ordinary word
sack
carries within it a few thousand years of commercial history. The Greeks got their word
sakkos,
"a bag made out of coarse cloth or hair," from the Phoenicians with whom they traded. The Phoenician word does not happen to be attested in any Phoenician writings that survive from antiquity, but words related to it can be found in the other Semitic languages, such as Hebrew
śaq
and Akkadian
saqqu.
The Greeks then passed the sack, as it were, to the Romans as Latin
saccus,
"a large bag or sack." The Latin word was then transmitted to the Germanic tribes with whom the Romans traded, and they gave it the form
*sakkiz.
(Similarly, many other languages of Europe, including Irish, Welsh, Albanian, Hungarian, Czech, Polish, and Russian, also have words derived from Greek
sakkos
or Latin
saccus.
) The speakers of Old English used two forms of the word,
sæcc,
meaning "sackcloth" and descending from Germanic
*sakkiz,
as well as
sacc,
meaning "a sack, a bag" and borrowed directly from Latin. The second Old English form is the ancestor of our
sack.
transitive verb
sacked, sack·ing, sacks
To rob (a town, for example) of goods or valuables, especially after capture.
noun
The looting or pillaging of a captured city or town.
Origin of sack
Probably from
French
(mettre à) sac
(to put in) a sack
from
Old French
sac
sack
from
Latin
saccus
sack, bag
; see
sack
1
.
noun
Any of various light, dry, strong wines from Spain and the Canary Islands, imported to England in the 1500s and 1600s.
Origin of sack
From
French
(vin) sec
dry (wine)
from
Old French
from
Latin
siccus
dry
---
sack

---