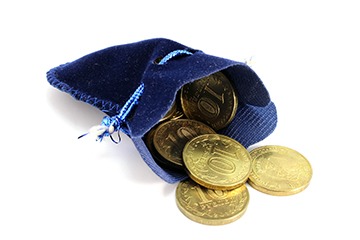 A pouch full of coins.
noun
The definition of a pouch is a small bag used for carrying things.

An example of a pouch is a small bag with a drawstring used for carrying coins.
---
pouch
a small bag or sack for carrying something, as in one's pocket: a leather tobacco pouch
a mailbag, specif. one whose opening can be locked, as for sending diplomatic dispatches

Scot.

a pocket (in clothing)

Archaic

a purse

Anat.

any pouchlike cavity or part

Zool.

marsupium (sense )
a baglike part, as of a pelican's bill or a gopher's cheeks, used to carry food
Origin of pouch
Middle English
pouche
from Middle French
poche
, variant, variety of
poque:
see poke
to put in a pouch
to make into a pouch; make pouchy
to swallow: said of fish and certain birds
to form a pouch or pouchlike cavity
---
pouch
noun
A small bag often closing with a drawstring and used especially for carrying loose items in one's pocket.
A bag or sack used to carry mail or diplomatic dispatches.
A leather bag or case for carrying powder or small-arms ammunition.
A sealed plastic or foil container used for packaging food or drink.
Something resembling a bag in shape: the pouches under one's eyes.
Zoology A saclike structure, such as the cheek pockets of the gopher or the external abdominal pocket in which marsupials carry their young.
Anatomy A pocketlike space in the body: the pharyngeal pouch.
Scots A pocket.
Archaic A small purse for coins.
verb
pouched, pouch·ing, pouch·es
verb
transitive
To place in or as if in a pouch; pocket.
To cause to resemble a pouch.
To swallow. Used of certain birds or fishes.
verb
intransitive
To assume the form of a pouch or pouchlike cavity.
Origin of pouch
Middle English
from
Old French
of Germanic origin
Related Forms:
---
pouch

Verb
(third-person singular simple present pouches, present participle pouching, simple past and past participle pouched)
To enclose within a pouch.
To transport within a pouch, especially a diplomatic pouch.

We pouched the encryption device to our embassy in Beijing.

(of fowls and fish) To swallow.
Part or all of this entry has been imported from the 1913 edition of Webster's Dictionary, which is now free of copyright and hence in the public domain. The imported definitions may be significantly out of date, and any more recent senses may be completely missing.
Origin
From Old Northern French pouche, borrowed from Old French poche, puche (whence French poche; compare also the Anglo-Norman variant poke), of Germanic origin: from Old Low Franconian *poka ("pouch") (compare Middle Dutch poke, Old English pocca, dialectal German Pfoch) or Frankish. Compare pocket, poke.
---