pocket

pock·et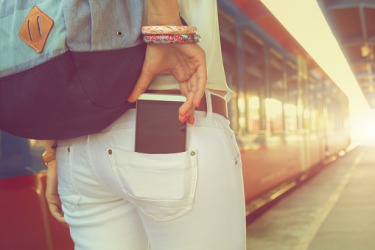 A woman putting a phone in the back pocket of her pants.
adjective
The definition of pocket is someone or something that's very small or smaller than usual.

An example of pocket is a notepad that will fit in the pouch sewn into the back of your pants; a pocket notepad.
An example of pocket is the sugar glider possum; the pocket possum.
noun
A pocket is a pouch or enclosure sewn into clothing or into a small container.

An example of a pocket is where people normally keep their wallet if they don't carry a bag.
An example of a pocket is a zippered compartment inside a bag where you'd keep your keys.
verb
Pocket is defined as to hide away or take something in a deceptive way.

An example of pocket is someone hiding the way they really feel about something.
An example of pocket is a cashier stealing money from their register.
---
pocket
Archaic

a sack, esp. when used to measure something

a cloth pouch sewn into or on clothing, for carrying money and small articles
any usually small container, compartment, enclosure, etc.

a cavity that holds or can hold something
a small area or group of a specified type: a pocket of poverty
a confining or frustrating situation
financial resources; funds; means: a drain on one's pocket
a position of being hemmed in by other contestants so as to be held back

Aeron.

air pocket

Baseball

a hollow in a baseball mitt where the ball can be securely caught and held

Bowling

the space between two pins, esp. the head pin and the pin next to it

Football

the protected area behind the offensive line, from which the quarterback passes the ball

Geol.

a cavity filled with ore, oil, gas, or water
a small deposit of ore

Pool

any of the pouches at the sides and corners of a billiard or pool table

Zool.

a sac or pouch in an animal's body
Origin of pocket
Middle English
poket
from Anglo-French
pokete
, for Middle French dialect, dialectal
poquette
, diminutive of
poque, poche:
see poach
that is or can be carried in a pocket
smaller than standard

not widespread; contained; isolated: pocket resistance
to put into a pocket
to provide with a pocket or pockets
to envelop; enclose
to take or receive, often, specif., in a dishonest manner, (money, profits, etc.) for one's own use
to put up with (an insult, gibe, etc.) without answering or showing anger
to hide, suppress, or set aside: pocket one's pride

Politics

to prevent passage of (a bill) by means of a pocket veto
in someone's pocket
Informal
completely under someone's influence
out of pocket
from money at hand
from one's own financial resources: the balance not covered by insurance will have to be paid out of pocket

having a financial loss
---
pocket
noun
A small baglike attachment forming part of a garment and used to carry small articles, as a flat pouch sewn inside a pair of pants or a piece of material sewn on its sides and bottom to the outside of a shirt.
A small sack or bag.
A receptacle, cavity, or opening.
Financial means; money supply: The cost of the trip must come out of your own pocket.

a. A small cavity in the earth, especially one containing ore.

b. A small body or accumulation of ore.

A pouch in an animal body, such as the cheek pouch of a rodent or the abdominal pouch of a marsupial.
Games One of the pouchlike receptacles at the corners and sides of a billiard or pool table.
Sports The webbing attached to the head of a lacrosse stick, in which the ball is caught and held.
Baseball The deepest part of a baseball glove, just below the web, where the ball is normally caught.
Sports A racing position in which a contestant has no room to pass a group of contestants immediately to his or her front or side.

a. A small, isolated, or protected area or group: pockets of dissatisfied voters.

b. Football The area a few yards behind the line of scrimmage that blockers attempt to keep clear so that the quarterback can pass the ball.

An air pocket.
A bin for storing ore, grain, or other materials.
adjective
Suitable for or capable of being carried in one's pocket: a pocket handkerchief; a pocket edition of a dictionary.
Small; miniature: a pocket backyard; a pocket museum.
Designating the two cards that are dealt to a player face down in Texas hold'em: was holding pocket eights.
transitive verb
pock·et·ed, pock·et·ing, pock·ets
To place in a pocket: pocketed her key.
To take possession of for oneself, especially dishonestly: pocketed the receipts from the charity dance.

a. To accept or tolerate (an insult, for example).

b. To conceal or suppress: I pocketed my pride and asked for a raise.

To prevent (a bill) from becoming law by failing to sign until the adjournment of the legislature.
Sports To hem in (a competitor) in a race.
Games To hit (a ball) into a pocket of a pool or billiard table.
Origin of pocket
Middle English
pouch, small bag
from
Anglo-Norman
pokete
diminutive of
Old North French
poke
bag
of Germanic origin
Related Forms:
---
pocket

Noun
(plural pockets)
A bag stitched to an item of clothing, used for carrying small items.
Such a receptacle seen as housing someone's money; hence, financial resources.
(sports, billiards, pool, snooker) An indention and cavity with a net sack or similar structure (into which the balls are to be struck) at each corner and one centered on each side of a pool or snooker table.
An enclosed volume of one substance surrounded by another.

The drilling expedition discovered a pocket of natural gas.

(Australian rules football) The area of the field to the side of the goal posts (four pockets in total on the field, one to each side of the goals at each end of the ground). The pocket is only a roughly defined area, extending from the behind post, at an angle, to perhaps about 30 meters out.
(American Football) The region directly behind the offensive line in which the quarterback executes plays.
(military) An area where military units are completely surrounded by enemy units.
(rugby)
(architecture) A hole or space covered by a movable piece of board, as in a floor, boxing, partitions, etc.
(mining) A cavity in a rock containing a nugget of gold, or other mineral; a small body of ore contained in such a cavity.
(nautical) A strip of canvas sewn upon a sail so that a batten or a light spar can placed in the interspace.
Verb
(third-person singular simple present pockets, present participle pocketing, simple past and past participle pocketed)
To put (something) into a pocket.
(sports, billiards, snooker, pool) To cause a ball to go into one of the pockets of the table; to complete a shot.
(slang) To take and keep (especially money) that which is not one's own.
(slang) To shoplift, to steal.
To receive (an insult, an affront, etc.) without open resentment, or without seeking redress.
Adjective
(not comparable)
Of a size suitable for putting into a pocket.

pocket dictionary

Smaller or more compact than usual.

pocket battleship

(Texas hold'em poker) Referring to the two initial hole cards.

A pocket pair of kings.
Origin
From Middle English pocket ("bag, sack"), from Anglo-Norman poket, Old Northern French poquet, poquete, diminutive of poque, poke ("bag, sack") (compare modern French pochette from Old French pochete, from puche), from Frankish *pokka ("pouch"), from Proto-Germanic *puk-, *pÅ«ka- ("bag, pouch"), from Proto-Indo-European *buk-, *bu-, *beu- ("to blow, swell"). Cognate with Middle Dutch poke, Alemannic German Pfoch ("purse, bag"), Old English pocca, pohha ("poke, pouch, pocket, bag"), Old Norse poki ("bag, pocket"). Cf. the related poke ("sack or bag"). See also Modern French pochette.
---