huge
[

hyo̵̅o̅j, yo̵̅o̅j

]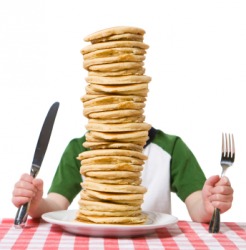 A huge stack of pancakes.
adjective
The definition of huge is extremely large, important or of a large amount.

An example of huge is the size of an elephant compared to a mouse.
---
huge
---
huge
adjective
hug·er
,
hug·est
Of exceedingly great size, extent, or quantity. See Synonyms at enormous.
Of exceedingly great scope or nature: the huge influence of the Hellenic world.
Informal Contributing in a major way to success; very important: The defensive line was huge in the second half.
Origin of huge
Middle English, from Old French
ahuge
.
Related Forms:
---
huge
Adjective
(comparative huger, superlative hugest)
Very large.

The castle was huge.

(slang)  Distinctly interesting, significant, important, likeable, well regarded.

our next album is going to be huge!;  in our league our coach is huge!
Origin
From Middle English huge, from Old French ahuge ("high, lofty, great, large, huge"), from a hoge ("at height"), from a ("at, to") + hoge ("a hill, height"), from Frankish *haug, *houg ("height, hill") or Old Norse haugr ("hill"), both from Proto-Germanic *haugaz ("hill, mound"), from Proto-Indo-European *koukos ("hill, mound"). Akin to Old High German houg ("mound") (whence German Hügel ("hill")), Icelandic haugr ("mound"), Lithuanian kaukaras ("hill"), Old High German hōh ("high") (whence German hoch), Old English hēah ("high"). More at high.
---