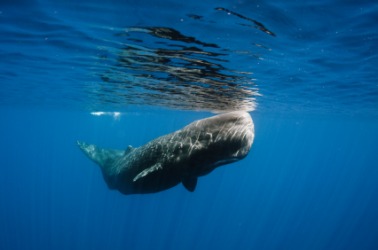 An example of leviathan is a whale.
noun
The definition of a leviathan is something large and powerful, or a sea creature such as a whale in the Bible.

An example of a leviathan is a large aircraft carrier.
---
leviathan
Bible

a sea monster, variously thought of as a reptile or a whale
anything huge or very powerful
Origin of leviathan
Middle English from Ecclesiastical Late Latin from Classical Hebrew (language)
liwy?th?n
from base akin to Akkadian
law?
, to surround, Arabic
liyatu
, snake
---
leviathan
noun
Something unusually large of its kind, especially a ship.
A very large animal, especially a whale.
A monstrous sea creature mentioned in the Bible.
Origin of leviathan
Middle English
huge biblical sea creature
from
Late Latin
from
Hebrew
liwyātān
lwy
---
leviathan

Noun
(plural leviathans)
(biblical) A large sea monster which guards the gates of hell at the bottom of the sea.
Origin
From Hebrew (Biblical and Modern) לִוְיָתָן ("whale").
---