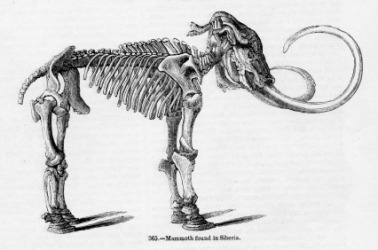 An illustration of a mammoths skeleton.
adjective
Mammoth is defined as something huge.

When you make a really, really big mistake, this is an example of a mistake that would be described as a mammoth mistake.
noun
The definition of a mammoth is an extinct elephant from the Pleistocene epoch that had curved tusks and a sloping back.

A large extinct furry elephant type animal is an example of a wooly mammoth.
---
mammoth
any of a genus (Mammuthus) of extinct elephants with a hairy skin and long tusks curving upward: remains have been found in North America, Europe, and Asia
Origin of mammoth
altered from Russian
mamont, mamot
from uncertain or unknown; perhaps
---
mammoth
noun
Any of various extinct elephants of the genus Mammuthus of the Pliocene, Pleistocene, and Holocene Epochs, having ridged molars and often, as in the woolly mammoth, long tusks and hair.
Something that is of great size.
adjective
Of enormous size, extent, or amount; huge. See Synonyms at enormous.
Of great scope or importance: mammoth expectations.
Origin of mammoth
Ultimately
(perhaps influenced by
behemoth
)
from
Russian
mamont, mamot
probably from
earlier Mansi (Ugric language of western Siberia)
mān-oŋt-
mān
earth
(
akin to
modern Mansi
mā-
earth
) (
as in
mā-xar
mammoth (literally, "earth stag")
)
oŋt-
horn
(
in reference to fossil mammoth tusks
)
mammoth
woolly mammoth Mammuthus primigenius
---
mammoth

Noun
(plural mammoths)
Any species of the extinct genus Mammuthus, of large, usually hairy, elephant-like mammals with long curved tusks and an inclined back, which became extinct with the last retreat of ice age glaciers during the late Pleistocene period, and are known from fossils, frozen carcasses, and Paleolithic cave paintings found in North America and Eurasia.
(figuratively) Something very large of its kind.
Adjective
(comparative more mammoth, superlative most mammoth)
Comparable to a mammoth in its size; very large, huge, gigantic.
---