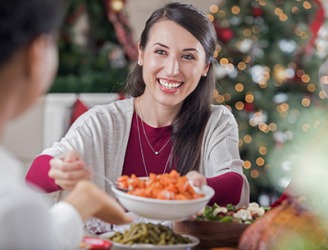 Even though Beverly did not like steamed carrots, she took a small spoonful anyway because her mother in law worked so hard to prepare the holiday meal.
adjective
The definition of small is someone or something that is little or young.

An example of small is a grain of sand as compared to a rock.
An example of small is a two year old child.
---
small
little in size, esp. when compared with others of the same kind; not large or big; limited in size

little in quantity, extent, numbers, value, duration, etc.: a small income
of slight intensity; of limited degree or scope
consisting of relatively few units; numerically low

of little importance or significance; trivial
young: a book for small children
having relatively little investment, capital, etc.: a small business
small-minded; mean; petty

of low or inferior rank; ordinary; not notable
modest or humble

gentle and low; soft: said of sound or the voice
diluted; light; weak: small ale
lowercase
Origin of small
Middle English
smal
, narrow, slender from Old English
smæl
, akin to German
schmal
, narrow from Indo-European base an unverified form
(s)m?lo-
, smaller animal: see mal-
in small pieces
in a low, faint tone; softly
in a small manner
the small or narrow part: the small of the back
[pl.] small things or articles collectively
[pl.]

Brit., Informal

Archaic

smallclothes
underclothes
feel small
to feel shame or humiliation
---
small
adjective
small·er, small·est
a. Being below average in size: a small car.

b. Being below average in quantity or extent: a small donation; a small project.

Limited in importance or significance; trivial: a small matter.
Having limited position, influence, or status; minor: "A crowd of small writers had vainly attempted to rival Addison" ( Thomas Macaulay )
Unpretentious; modest: made a small living; helped the cause in my own small way.
Not fully grown; very young: a small child.
Narrow in outlook; petty: a small mind.
Having been belittled; humiliated: Their comments made me feel small.
Diluted; weak. Used of alcoholic beverages.
Lacking force or volume: a small voice.
Lowercase: Type the password in small letters.
adverb
In small pieces: Cut the meat up small.
Without loudness or forcefulness; softly.
In a small manner.
noun
A part that is smaller or narrower than the rest: the small of the back.
smalls

a. Small things considered as a group.

b. Chiefly British Small items of clothing.
Origin of small
Middle English
smal
from
Old English
smæl
Related Forms:
---
small

---