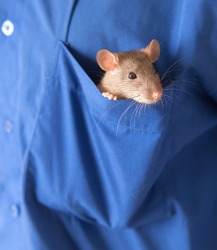 Smitty, a pocket size rat, enjoys trips to the pet store with his owner Larry.
adjective
The definition of pocket size is something that is small enough to be carried on your person easily, often in your shirt or pants.

An example of pocket size is a tiny cell phone that you can keep on you when you go out.
---
pocket-size
of a relatively small size; esp., of a size to fit in the pocket
---