modest

mod·est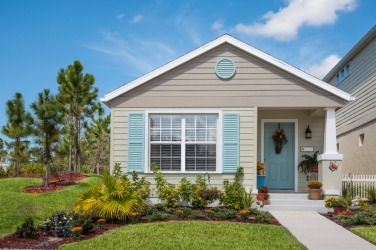 A modest home.
adjective
The definition of modest is someone or something that is humble or shy or not extreme.

An example of modest is a person who doesn't easily take their clothes off around others.
An example of modest is a simple house.
---
modest
having or showing a moderate opinion of one's own value, abilities, achievements, etc.; not vain or boastful; unassuming
not forward; shy or reserved: modest behavior
behaving, dressing, speaking, etc. in a way that is considered proper or decorous; decent
moderate or reasonable; not extreme: a modest request
quiet and humble in appearance, style, etc.; not pretentious: a modest home
Origin of modest
French
modeste
from Classical Latin
modestus,
keeping due measure, modest from
modus:
see mode
---
modest
adjective
Having or showing a moderate estimation of one's own abilities, accomplishments, or value: was too modest to talk about his success.

a. Having or proceeding from a disinclination to call attention to oneself; retiring or diffident: a quiet, modest demeanor.

b. Observing conventional proprieties in speech, behavior, or dress, especially in the avoidance of arousing sexual interest.

a.

Free from showiness or ostentation; unpretentious:

a house with modest furnishings.

See Synonyms at

plain

.

b. Moderate or limited in size, quantity, or range; not extreme: a modest price; a newspaper with a modest circulation.
Origin of modest
Latin
modestus
; see
med-
in Indo-European roots.
Related Forms:
---
modest

Adjective
(comparative modester or more modest, superlative modestest or most modest)
Not bragging or boasting about oneself or one's achievements, unpretentious, humble.
Small, moderate in size.

He earns a modest amount of money.
Her latest novel was a modest success.

(especially of behaviour or clothing) Avoiding being sexually suggestive.
---