ostentatious

os·ten·ta·tious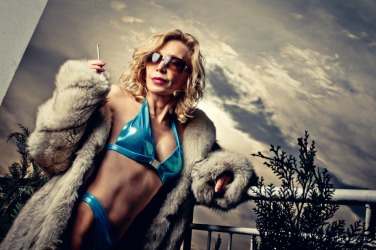 This is ostentatious.
adjective
The definition of ostentatious is someone or something designed to get notice or draw attention by being inappropriate, showy, vulgar and in bad taste.

An example of ostentatious is when someone buys huge diamonds and drives very expensive cars in order to show off.
---
ostentatious
adjective
Characterized by or given to ostentation. See Synonyms at
showy
.
Related Forms:
os′ten·ta′tious·ly

adverb
---
ostentatious

Adjective
(comparative more ostentatious, superlative most ostentatious)
Of ostentation.
Intended to attract notice.
---