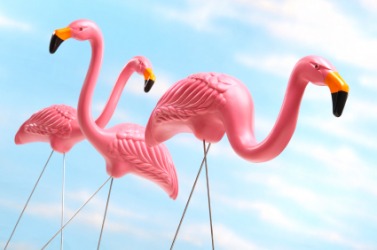 An example of kitsch might be these plastic famingoes.
noun
The definition of kitsch is a form of art that is an inferior, often gaudy, imitation of a famous piece of art that is created for popular appeal.

An example of kitsch is a "Mickey Mao" t-shirt.
---
kitsch
art, writing, etc. of a shallow kind, calculated to have popular appeal
Origin of kitsch
Ger, gaudy trash from dialect, dialectal
kitschen,
to smear
---
kitsch
noun
Pieces of art or other objects that appeal to popular or uncultivated taste, as in being garish or overly sentimental.
Origin of kitsch
German
Kitsch
(
originally used of kitschy painting
)
perhaps from
kitschen
to sweep or rake up street mud
or from
German dialectal
kitschen
to sell off cheaply
Related Forms:
---
kitsch

---