aesthetic

aes·thet·ic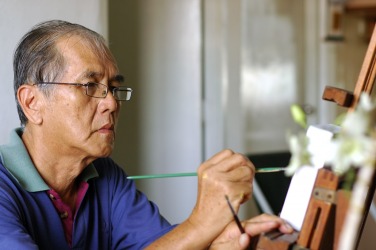 An artist could be called an aesthetic.
adjective
The definition of aesthetic is being interested in how something looks and feels.

An example of someone who is aesthetic might be an artist.

Aesthetic means the pleasant, positive or artful appearance of a person or a thing.

An example of the word is aesthetic is to say that a particular car is beautiful.
noun
Aesthetic is defined as a concept of what is visually acceptable, in trend or expected at the time.

An example of an aesthetic is minimalism.
---
aesthetic
of or in relation to aesthetics
of beauty
sensitive to art and beauty; showing good taste; artistic
Origin of aesthetic
Classical Greek
aisth?tikos
, sensitive from
aisthanesthai
, to perceive from Indo-European base an unverified form
awis-
from source Classical Latin
audire
, to hear
an aesthetic theory or viewpoint
---
aesthetic
or es·thet·ic
adjective
Relating to the philosophy or theories of aesthetics.

a. Of or concerning the appreciation of beauty or good taste: aesthetic judgment; the aesthetic appeal of the exhibit.

b. Attractive or appealing: the more aesthetic features of the building.

Characterized by a heightened sensitivity to beauty: the poet and his aesthetic friends.
Being or relating to a work of art; artistic: The play was an aesthetic success.
Informal Conforming to accepted notions of good taste.
often Aesthetic Of or characteristic of aestheticism in the arts.
noun
A guiding principle in matters of artistic beauty and taste; artistic sensibility: "a generous Age of Aquarius aesthetic that said that everything was art" ( William Wilson )
An underlying principle, a set of principles, or a view often manifested by outward appearances or style of behavior: "What troubled him was the squalor of

[the colonel's]

aesthetic" ( Lewis H. Lapham )
Origin of aesthetic
German
ästhetisch
from
New Latin
aesthēticus
from
Greek
aisthētikos
of sense perception
from
aisthēta
perceptible things
from
aisthanesthai
to perceive
; see
au-
in Indo-European roots.
Related Forms:
---
aesthetic

---