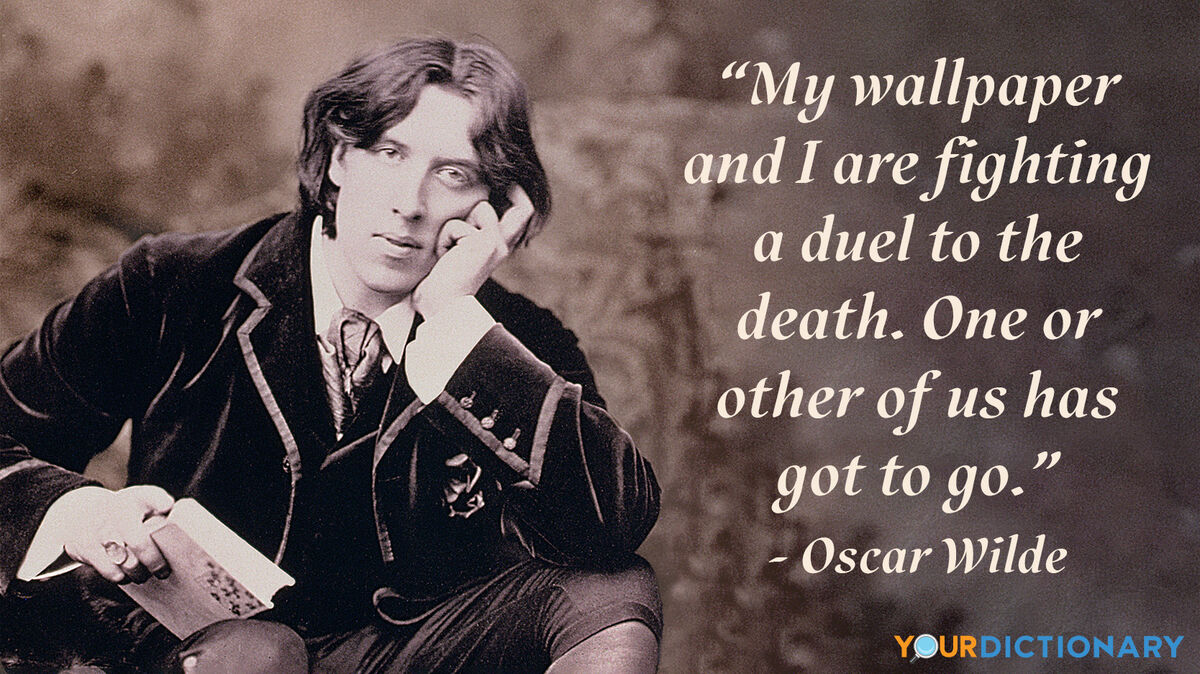 It's interesting to see the final words uttered by some of your literary favorites or celebrities. Learn Oscar Wilde's last words on November 30th, 1900. Get a glimpse into his life and the reason behind his death.
Oscar Wilde's Reputed Last Words
Many celebrities and authors are famous for their last words; this includes Oscar Wilde. While no one reported on Oscar Wilde's last words, in the weeks before his death, his friends reported that he spoke of several things more than once.
These can be considered the last of his clever sayings:
"I am dying beyond my means. I can't even afford to die."
"My wallpaper and I are fighting a duel to the death. One or other of us has got to go."
While the wallpaper quote might not be exactly what Oscar Wilde said, it is close, and that's the one most people believe includes his last remarks.
The Meaning of Oscar Wilde's Last Words
During his final moments on Earth, Wilde spent his time at Hôtel d'Alsace in Saint-Germain-des-Prés, Paris. Evidently, he had a love/hate relationship with the wallpaper within his room. However, he lost the battle with the wallpaper on November 30th, 1900. For a man that chose to live his life his way, he displayed the wit he was known for even in his final moments.
The Truth of Oscar Wilde's Death
According to the University of Michigan, while many believe that Oscar Wilde died of syphilis, modern physicians believe he might have died of an ear infection. To understand Wilde's death, it's important to explore the final years of his life.
According to the Section of the History of Medicine, Lord Alfred Douglas noticed that Wilde had trouble hearing before his trial for homosexuality in 1895. This is thought to be from previous ear issues flaring up. Given the conditions in prison, Wilde was prone to repeat ear infections.

Wilde got out of prison in 1897 after serving two years of hard labor. He then moved to France and wrote his final work, a poem about prison life, The Ballad of Reading Gaol. He also traveled around Europe. However, the ear infections he'd experienced in prison came back with a vengeance in 1900. A serious infection developed in his ear. This infection penetrated the meninges, causing meningitis, which led to his death.
Oscar Wilde's full name was Oscar Fingal O'Flahertie Wills Wilde. He was born in Dublin on October 16, 1854. He was taught at home, where he excelled, learning French and German. He started attending college at seventeen years old, attending Trinity College in Dublin and then going to Magdalen College at Oxford.
He did very well at Magdalen, winning awards and prizes. After leaving Magdalen, he worked as a writer, publishing his first set of poems in 1881. He was an ardent follower of the philosophy of aestheticism, which places emphasis on art, culture and nature. Aesthetics study the way we perceive the world and explore other ways to look at things. In 1881, he traveled to the United States to lecture on aesthetics, giving 140 lectures in 260 days.
Marriage to Constance Lloyd
He married Constance Lloyd, daughter of a well-known barrister, in 1884. They had two sons right away, so he got a job with Women's World magazine. He wrote his only novel, The Picture of Dorian Gray, which was published in a magazine in 1890. He began writing for the theater and wrote several well-known plays, including:
A Woman of No Importance

An Ideal Husband

The Importance of Being Earnest
Relationship With Lord Alfred 'Bosie' Douglas
In the summer of 1891, he met Lord Alfred 'Bosie' Douglas. They had a relationship for four years until Wilde was imprisoned. Wilde sued Douglas's father for libel because he accused him of homosexuality but soon dropped the suit. Wilde was then arrested and charged with gross indecency with men and sentenced to two years of hard labor.
Other Quotes of Oscar Wilde
Oscar Wilde was known for his words. In addition to his last words, Oscar Wilde had a few other famous quotes.
"I regard the theatre as the greatest of all art forms, the most immediate way in which a human being can share with another the sense of what it is to be a human being."

"Art is the most intense mode of individualism that the world has known."

"A man who does not think for himself does not think at all."

"I can resist everything except temptation."
Most people attribute, "This wallpaper is terrible — one of us will have to go!" or something similar as the final words of Oscar Wilde. While the quote might not be exact, it's clear that Oscar Wilde's last words were just as witty as those he was known for. Before you go, check out a few more last words like those from Freddie Mercury or Steve Jobs.