noun
The definition of beauty is the quality that provides pleasure to the senses or to the mind by behavior or attitude.

An attractive young lady, a stunning flower and a mother cat taking care of her kittens are all examples of beauty.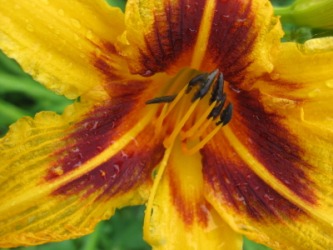 The beauty of a flower.
---
beauty definition by Webster's New World
noun
pl.
beauties
the quality attributed to whatever pleases or satisfies the senses or mind, as by line, color, form, texture, proportion, rhythmic motion, tone, etc., or by behavior, attitude, etc.
a thing having this quality
good looks
a very good-looking woman
any very attractive feature
Origin: Middle English beaute ; from Old French bealte ; from Vulgar Latin an unverified form bellitas ; from Classical Latin bellus, pretty, lovely
Webster's New World College Dictionary Copyright © 2010 by Wiley Publishing, Inc., Cleveland, Ohio. Used by arrangement with John Wiley & Sons, Inc.
---
beauty definition by American Heritage Dictionary
noun
pl.
beau·ties
The quality that gives pleasure to the mind or senses and is associated with such properties as harmony of form or color, excellence of artistry, truthfulness, and originality.
One that is beautiful, especially a beautiful woman.
A quality or feature that is most effective, gratifying, or telling: The beauty of the venture is that we stand to lose nothing.
An outstanding or conspicuous example: "Hammett's gun went off. The shot was a beauty, just slightly behind the eyes" (Lillian Hellman).
Origin: Middle English beaute, from Old French biaute, from Vulgar Latin *bellitās, from Latin bellus, pretty; see deu-2 in Indo-European roots.
The American Heritage® Dictionary of the English Language, 4th edition Copyright © 2010 by Houghton Mifflin Harcourt Publishing Company. Published by Houghton Mifflin Harcourt Publishing Company. All rights reserved.
---
beauty - Ologies & -Isms Definition
adonism
the beautification of a person, usually a male.
aesthetician, esthetician
1.
a specialist in aesthetics.
2.
a proponent of aestheticism.
aestheticism, estheticism
the doctrine that the principles of beauty are basic and that other principles (the good, the right) are derived from them, applied especially to a late 19th-century movement to bring art into daily life. See also
art
.
aesthetics, esthetics
a branch of philosophy dealing with beauty and the beautiful. —
aesthetic,
n., adj.
—
aesthetical,
adj.
cosmetology
the art or practice of the beautification of the skin, hair, or nails. —
cosmetologist,
n.
—
cosmetological,
adj.
philocalist
a lover of beauty. —
philocaly,
n.
pulchritude
physical beauty, especially that of women. —
pulchritudinous,
adj.
Ologies & -Isms. Copyright 2010 The Gale Group, Inc. All rights reserved.
---
beauty - Phrases/Idioms