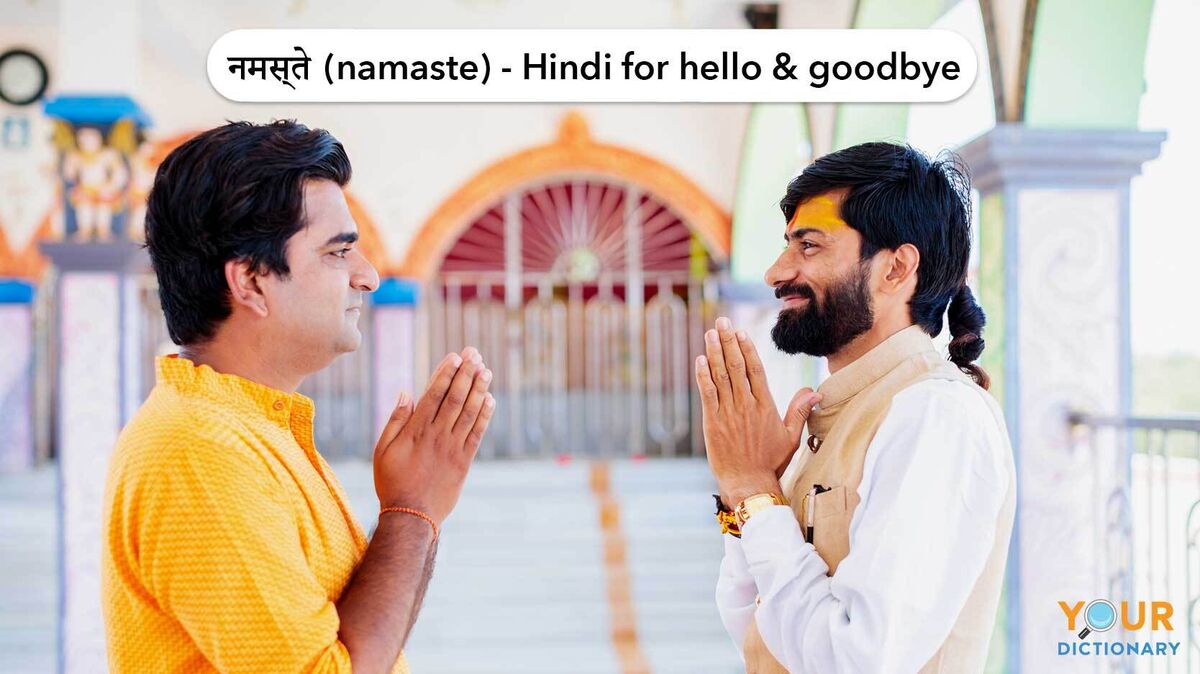 Hindi is an Indo-Aryan language predominantly spoken in India, as well as areas in Africa and Yemen. Learn common Hindi words and greetings to add to your language library. Get lost in beautiful Hindi words with powerful meanings.
Hindi is a unique language. Like English, there are informal and formal types of greetings. However, Hindi has more variations in how you speak to strangers and authority than you find in English. Learn some common Hindi words used for greetings. Additionally, since Hindi is written in Devanagari script rather than the Latin alphabet, you use the pronunciation of the way the word is spoken.
नमस्ते (namaste) - hello & goodbye
विदाई (vidai) - farewell
स्वागत (swagt) - welcome to a stranger
कृप्या (kripaya) - please
धन्यवाद (dhanyavaad) - thank you
माफ़ करना (maaf karana) - sorry
नमस्कार (namaskar) - good afternoon
सुसंध्या (susandhya) - good evening
सुबह (subah) - morning
फिर मिलेंगे (phir milenge) - see you
ज़्यादा कुछ नहीं (zyaada kuch nahi) - nothing much
कैसा चल रहा है? (kaisa chal raha hai?) - How are you?
आप से मिलकर खुशी हुई (Ap se milkar kushi hui) - Nice to meet you.
Once you get past the common greetings in Hindi, it's fun to look at some of the beautiful Hindi words. Not only are these beautiful in their meanings but just the way they are spoken. Dive into some uniquely beautiful Hindi words.
जिजीविषा (jijivisha) - doesn't have a direct English translation but roughly means hope for life
मोक्ष (moksha) - to be free or to let it go; similar to nirvana in Buddhism
वात्सल्य (vatsalya) - unconditional mother's love
आशा (aasha) - hope
सुंदर (sundara) - beautiful
पराक्रम (paraakram) - courage/strength
शक्ति (shakti) - power
रैना (raina) - night
ख्याल (khyaal) - fond remembrance
राब्ता (raabta) - soulful connection
इन्द्रिय (indriya) - power within/spiritual strength
एहसास (ehsaas) - feelings/enlightenment
तनहाई (tanhai) - loneliness
हसरत (hasrat) - wish
रूह (rooh) - soul
Basic Hindi Words With Meanings
Beyond just common greetings in Hindi, you can find a few basic Hindi words. Explore these Hindi words, pronunciations and definitions in English. Get lost in these common phrases found in this beautiful language.
हाँ (haan) - yes
नहीं (nahi) - no
चलो (chalo) - let's go

रुको (ruko) - stop
मुझे (mujhe) - me
मैं थक गया (main thak gaya) - I'm tired
क्यों (kyoon?) - why
कब (kab) - when
अच्छा (accha) - good
खाना (khaana) - food
मुबारक हो! (mubaarak ho!) - congratulations
आज (aaj) - today
कल (kal) - tomorrow/yesterday
खाओ (khaao) - eat
खेलो (khelo) - play
काम करो (kaam karo) - work
पानी (pani) - water
Common Relationship Words in Hindi
Hindi words don't just stop at the common Hindi phrases. There are other beautiful Hindi words to describe family members, relationships and emotions. Explore some Hindi words to learn to say to your family.
मां (mam) - mother
पिता (pita) - father
भाई (bhai) - brother
बहन (bahana) - sister
मोहब्बत (mohabbat) - love
नफ़रत (nafarata) - hate
उदास (udasa) - sad
खुश (khusa) - happy
सुभग (subhaga) - charming
चचेरा (cacera) - cousin
परिवार (parivara) - family
Printable Hindi Word List
Take your basic and beautiful Hindi word list home with you by downloading this unique printable list of Hindi words. The printable includes the words in Hindi, their pronunciations and their meanings in English.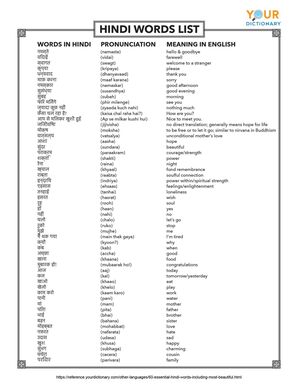 When you are traversing the globe, it can help have a few Hindi phrases in your vocabulary. Check out some of these useful and common Hindi phrases.
आप कहाँ से हो? (aap kahaan se ho?) - Where are you from?
यह क्या है? (yeh kya hai?) - What is this?
शौचालय कहाँ है? (shauchalay kahan hai?) - Where is the bathroom?
कितना? (kitna?) - How much?
मुझे पसंद नहीं है (mujhe pasand nahi hai) - I do not like ...
मुझे पसंद है (mujhe pasand hai) - I like it.
आपका नाम क्या है? (aapka naam kya hai?) - What is your name?
आप का दिन अच्छा बीते! (ap ka din accha bite!) - Have a nice day!
मुझे नहीं पता (mujhe nahiṁ pata) - I don't know.
कितने का है? (kitane ka hai?) - How much is this?
मुझे अकेला छोड़ दो! (mujhe akela chod do) - Go away!
जल्दी से ठीक हो जाओ (jaldi se ṭhik ho jao) - Get well soon.
क्या आप इसे दोहरा सकते हैं (kya ap issey dohra saktey hain?) - Please say that again.
क्या आप हिन्दी बोलते हैं? (kya ap hindi bolte hain?) - Do you speak Hindi?
Essential Hindi Words to Try
The preferred language of India, Hindi is a beautiful language written using Devanagari script rather than the Roman alphabet. Now that you've looked at a few Hindi words, you might be interested in learning English words from Hindi and Urdu. The history of the Sanskrit language might also be of interest.