noun
Fright is defined as sudden fear or apprehension, or is a person who looks startling or ridiculous.

A ghost that causes you to feel extremely scared is an example of a fright.
A person who is messy, wearing unkempt and mismatched clothes with unbrushed hair is an example of someone who looks a fright.
A feeling of terror you get when you see a ghost is an example of fright.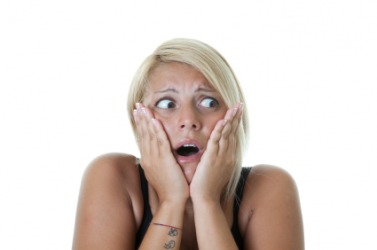 This woman has had a fright.
---
fright definition by Webster's New World
noun
sudden fear or terror; alarm
an ugly, ridiculous, startling, or unusual person or thing
Origin: Middle English ; from Old English fyrhto, fryhto, fear, akin to German furcht, fear, Gothic faúrhts ; from Indo-European base an unverified form perg-, fear, to be afraid
transitive verb
Rare
to frighten; terrify
Origin: ME frighten < OE fyrhtan
Webster's New World College Dictionary Copyright © 2010 by Wiley Publishing, Inc., Cleveland, Ohio. Used by arrangement with John Wiley & Sons, Inc.
---
fright definition by American Heritage Dictionary
noun
Sudden intense fear, as of something immediately threatening; alarm. See Synonyms at fear.
Informal Something extremely unsightly, alarming, or strange: Brush your hair; you look a fright.
transitive verb
fright·ed
,
fright·ing
,
frights
Archaic
To frighten.
Origin: Middle English, from Old English fyrhto, fryhto. V., from Middle English frighten, to frighten, be afraid, from Old English fyrhtan.