alarm

a·larm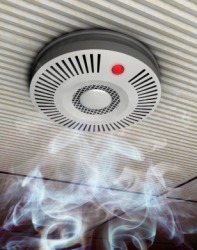 A smoke detector is a type of alarm.
noun
Alarm is defined as a device or call announcing a warning or danger.

A smoker detector is an example of an alarm.
verb
The definition of alarm is to warn of danger or to make someone afraid or distressed.

An example of alarm is Paul Revere riding through the towns to warn the people that the British were near.
An example of alarm is to sneak up behind a person and shout to scare him or her.
---
alarm
Archaic

a sudden call to arms
a signal, sound, cry, etc. that is a warning of danger
a mechanism designed to warn of danger or trespassing: a burglar alarm
the bell, buzzer, etc. of an alarm clock
fear caused by a sudden awareness of danger
Origin of alarm
Middle English
alarme
from Old French from Italian
all'arme
, to arms
to warn of approaching danger
to make suddenly afraid or anxious; frighten
---
alarm
noun
Sudden fear or concern caused by the realization of danger or an impending setback. See Synonyms at fear.
A warning of existing or approaching danger: The committee's report issued an alarm about the dangerous condition of the town's buildings.
A device that is used to warn of danger by means of a sound or signal: a fire alarm.
The sounding mechanism of an alarm clock: The alarm went off at 6:30.
A call to arms.
transitive verb
a·larmed, a·larm·ing, a·larms
To fill with alarm or anxious concern. See Synonyms at frighten.
To give warning to: "The soldiers … killed every dog within three miles to prevent a bark that would alarm the enemy" ( William Least Heat-Moon )
To equip with or protect by an alarm: The dormitory doors are alarmed from 7:00 PM to 7:00 AM.
Origin of alarm
Middle English
from
Old French
alarme
from
Old Italian
allarme
from
all'arme
to arms
alla
to the
(
from
Latin
ad illa
) (
ad
to
; see
ad-
. ) (
illa
) (
neuter pl. of
ille
that, the
; see
al-
1
in Indo-European roots.)
arme
arms
(
from
Latin
arma
; see
ar-
in Indo-European roots.)
Related Forms:
---
alarm

---
alarm - Computer Definition
---