verb
Warn is defined as to tell or caution against danger.

An example of warn is to tell someone that there is a slippery road ahead.
YourDictionary definition and usage example. Copyright © 2013 by LoveToKnow Corp.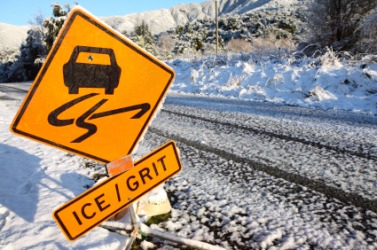 This sign warns of a slippery road.
Licensed from iStockPhoto
---
transitive verb
to tell (a person) of a danger, coming evil, misfortune, etc.; put on guard; caution
to caution about certain acts; admonish: warned against smoking in the building
to notify in advance; inform
to give notice to (a person) to stay or keep (off, away, etc.)
Origin: Middle English warnien from Old English wearnian from Indo-European base an unverified form wer-, to heed from source guard
intransitive verb
to give warning
Webster's New World College Dictionary
Copyright © 2010 by Wiley Publishing, Inc., Cleveland, Ohio.
Used by arrangement with John Wiley & Sons, Inc.
---
verb
warned
,
warn·ing
,
warns
verb
, transitive
To make aware in advance of actual or potential harm, danger, or evil.
To admonish as to action or manners.
To notify (a person) to go or stay away: warned them off the posted property.
To notify or apprise in advance: They called and warned me that they might be delayed.
verb
, intransitive
To give a warning.
Origin: Middle English warnen, from Old English warnian; see wer-4 in Indo-European roots.
Related Forms:
The American Heritage® Dictionary of the English Language
, 4th edition Copyright © 2010 by Houghton Mifflin Harcourt Publishing Company. Published by Houghton Mifflin Harcourt Publishing Company. All rights reserved.