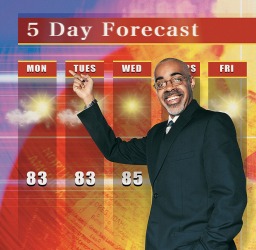 The weatherman predicts the 5 Day Forecast.
verb
The definition of predict is to say what will happen in the future.

An example of predict is a weather person saying it's going to rain tomorrow.
---
predict
to say in advance (what one believes will happen); foretell (a future event or events)
Origin of predict
from Classical Latin
praedictus
, past participle of
praedicere
from
prae-
, before (see pre-) +
dicere
, to tell: see diction
---
predict
verb
pre·dict·ed, pre·dict·ing, pre·dicts
verb
transitive
To state, tell about, or make known in advance, especially on the basis of special knowledge: predicted an active hurricane season because of warmer ocean-surface temperatures.
verb
intransitive
To foretell something.
Origin of predict
Latin
praedīcere
praedict-
prae-
pre-
dīcere
to say
; see
deik-
in Indo-European roots.
Related Forms:
---
predict

Verb
(third-person singular simple present predicts, present participle predicting, simple past and past participle predicted)
To state, or make something known in advance, especially using inference or special knowledge.

to predict misfortune; to predict the return of a comet
How did Nostradamus predict that this would happen?

To believe or hold to be true in advance; forehold; surmise.

How could I ever predict this could happen?
Origin
17th Century: from Latin praedÄ«cere ("to mention beforehand"), from prae ("before") + dÄ«cere ("to say").
---