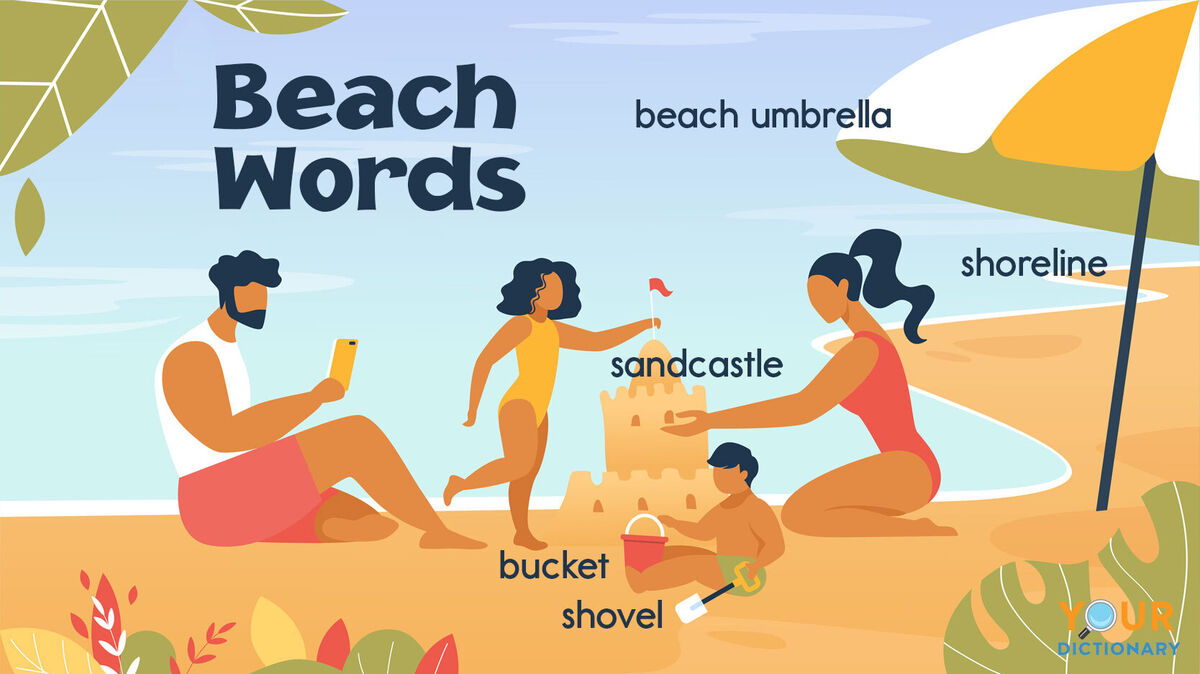 Looking to boost your vocabulary with some interesting beach words? Whether you're writing a story about the beach, looking forward to vacationing at the beach or simply want to learn some new ways to talk about the beach, you'll be excited to discover this extensive selection of beach-related terminology.
Beach-Specific Descriptive Words
There are many descriptive words for the beach, including terms that describe the appearance of the sand or shoreline itself, or what conditions are like at a particular beach location.
accessible
boardwalk
black sand
crowded
deserted
driftwood

endless

grassy
hermit crab
jagged

narrow stretch

rocky

sandbar
sand dollar
sandy
seashore
seashells
shoreline
smooth
starfish
tidal pool
uneven shore
wharf
white sand
wide stretch
A Day at the Beach Activity List
When you go to the beach, there are a variety of fun activities to enjoy. Depending on your idea of a fun day at the beach, you can be as active or sedentary as you like.
beach frisbee
beach volleyball
boating
body surfing
crabbing
finding shells
fishing
kite flying
jet skiing
luau
paddling
parasailing
people watching
running
sandcastle
sand fort
scavenger hunt
scuba diving
snorkeling
sunbathing
surfing
swimming

wading

wakeboarding
walking
Words for Beach Items and Supplies
If you're planning to spend a day at the beach, you'll need to take quite a few supplies to make the most of your fun in the sun. The individual and compound beach vocabulary words below provide an overview of items commonly taken along on beach outings or trips.

arm floaties
beach bag

beach ball
beach chair
bach mat
beach towels

bucket
book

cold beverage
canoe

canopy
coverup

flip flops
flippers

ice chest

inner tube
kayak
pool noodles

shovel

snorkel

sunglasses
sunscreen

swim goggles
swimsuit
Words for Beach Location or Setting
Some beach vocabulary words are terms that describe where the beach is located, such as what type of body of water it is beside or the setting it is in.
Atlantic
Caribbean

cliff-top
coastal

developed

idyllic
isolated
lakeside

manmade
Mediterranean
natural

oceanfront
populated
private
public
Pacific
palm trees
paradise
resort
seaside
touristy

tranquil
tropical
unspoiled
untouched
Words to Describe the Beach Experience
Not all descriptive words for the beach focus on the beach itself. Many terms can be used to convey what it's like to spend time at the beach.
awesome
blissful
breezy
calm
carefree
de-stressing
enjoyable
exciting
exhilarating
fun in the sun
hot
lazy
natural
outdoorsy
peaceful
pleasant
pleasurable
refreshing
rejuvenating
relaxing
salty
splashing
sweaty
warm
windy
Terms for Water Conditions at the Beach
Since beach areas are always adjacent to bodies of water, some of the most important beach vocabulary words to learn are ones that describe the water conditions.
aqua blue
big surf
brackish
choppy
clear
crystal clear
dark
deep
emerald green
freshwater
gentle
high tide
low tide
murky
neap tide
powerful
rip current
rough
saltwater
shallow
still
threatening

turbulent
wavy
whitecaps
There are some fun and interesting beach slang words, including some extreme beach words that surfers use. While your beach vocabulary shouldn't be limited to slang terminology, it'll be fun to master some of the lingo before your next trip to the seashore.
amped - feeling of excitement related to riding waves
beach bum - one who spends a lot of time at the beach
curl - the area at the top of a wave that curves over as the wave breaks
hang ten - positioning your feet on a surfboard so that all ten toes are over the edge
lull - a calm period in between wave formations
men in gray suits - surfer slang for sharks in the water
mush - soft waves that aren't strong enough for surfers to ride
stick - a surfboard
surf's up - an abbreviation for "surf is up"; there are high waves

whitewater - a foamy wave that breaks up
If you're going to spend time at the beach, you should also know the words and meanings for the basic five flag warning system used on many beaches. These flags are a safety tool used to caution beachgoers about localized hazards, including whether or not the water is considered safe for swimming.
green flag - low hazard level; calm conditions
purple flag - hazardous; dangerous marine life has been spotted fairly close to the shore
red flag (double) - area closed to the public
red flag (single) - high hazard due to strong currents and/or high surf
yellow flag - medium hazard level due to moderate surf and/or currents
The printable beach word list features several of the most basic beach words paired with colorful, kid-friendly images. It's a great tool to help young learners master some beach vocabulary words, whether for school or to prepare them for a family beach vacation.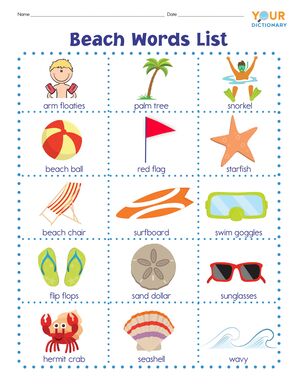 Discover Beach Words to Expand Your Vocabulary
A lot of different words can be used to describe the beach, from short words with just a few letters or syllables to longer, compound words with 6 letters or more and several syllables. Now that you have strengthened your beach vocabulary, learn more about the bodies of water they are associated with. Start by reviewing some examples of oceans and seas. Then, expand your vocabulary even more by discovering a selection of summer words to vividly describe the season that most beach trips take place.