Are you looking for the right words to describe summer? There are a ton of different ways to describe summer, from words that focus on hot weather activities to terms that describe the overall season. Discover a great collection of summer words that will help you find just the right way to express what you want to say about this time of year.
Printable Word List for Summer
If you're looking for an illustrated list of words to help youngsters master a few key summer terms, download the printable below. It's a great handout for summertime vocabulary words. You could also print and laminate the list to use as a colorful summer placement for the kids' table.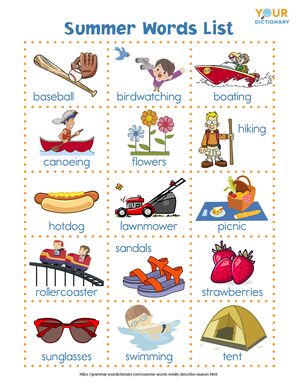 Words Related to Summer Season
The summer season is warm and wonderful. Get in the summertime groove with these fun summer vibe words. These "a" to "z" summer words provide options for every occasion.
air conditioner
bask in the sun
bounty
carefree
cookout
fan

flowers
gardening
festivals
fireworks
hammock

insects
lawnmower
parched

picnic
porch
pool toys
relaxation
sunbathing

sunburn
tall grass
outdoor dining
verdant
weeds
zinc oxide
Summer Weather Terminology
During summer, the weather is different from every other season of the year. Summer weather can range from super-hot temperatures in some areas to dangerous weather systems that cause widespread damage.
balmy
blistering
El Niño

heat
humidity
hurricane
La Niña
mild
muggy
named storms
oppressive
scorching
steamy
sticky
stifling
sultry
sun-drenched
sunny
sweltering
thunderstorm
tropical
tropical storm
tropical weather
warm breezes
wildfires
Words for Summer Apparel and Accessories
Knowing what words to use to describe the unique weather of summer is important, but it's also necessary to choose the proper clothing items to wear during summer weather conditions.
baseball cap
Bermuda shorts
flip flops
halter top
Hawaiian shirt
huaraches
maxi dress
mini skirt
polo top

running shorts
sandals
sarong
seersucker suit
short shorts
sneakers
straw hat
sundress

sun visor
sunglasses
tank top
tennis skirt
tote bag
tunic
walking shorts
wicking fabric
List of Summer Food and Flavors
Summer is the perfect time for chilled side dishes and desserts paired with fresh produce or seafood. Summertime flavors provide a feast of incredible tastes that can be explained using descriptive words for food.
barbecue
bell peppers
blackberries
blueberries
cantaloupe
chicken salad
crabs
crowder peas
corn on the cob
fresh fish
hamburgers
homemade ice cream

hot dogs
lemonade

oysters

pasta salad
peaches
popsicle
shrimp
snow cones
strawberries
summer squash
tomatoes
strawberry shortcake
watermelon
Words to Describe Summer Vacation
What says summer more than going on vacation? Check out this extensive list of beach words for summer terms related to a seaside or oceanfront destination, then consider other terms for fun-in-the-sun getaways.
adventure travel
birdwatching
boating

bungalow
cabin
cruise

deep sea fishing
family time

free time
hotel stays

lazy days
long weekends
National Parks
resort
road trip
roller coasters
RV camping
sightseeing
State Parks
summer camp
tent camping
tourist attractions
train excursion
waterparks

Summer Sports, Games and Activities
Any sport, game or activity that is most fun when enjoyed outdoors provides a perfect way to pass the time during the summer.
backpacking
badminton
bicycling
canoeing
croquet

disc golf
diving
hiking
horseshoes
kayaking
mountain climbing
park visits
river tubing
rock climbing
running
softball
surfing
tennis
swimming
trampoline

tree climbing
volleyball
water polo
whitewater rafting
Summer Holidays and Observances
A few major holidays fall during the summer months, as well as some other festive occasions and interesting summertime observances. Learn the names of several special summer celebrations.
National Sunscreen Day - the Friday before Memorial day; also known as Fry Day
Memorial Day - last Monday in May
Father's Day - third Sunday in June
Summer Solstice - the longest day of the year; usually June 20 or 21

National Stay Out of the Sun Day - July 3
Independence Day - July 4
National Bikini Day - July 5
National Hot Dog Month- July
National Hot Dog Day - third Wednesday in July
National Hammock Day - July 22

National Roller Coaster Day - August 16
National Dog Day - August 26
Labor Day - First Monday in September
Using Words to Describe Summer
Whether you're discussing summer with friends or family or you're writing a summer poem focused on the warmest season of the year, it's important to use appropriate terminology. This list of words provides you with plenty of options to consider, though there are certainly other words related to the summer season. Be sure to explore these words to know to avoid a vacation disaster before setting off on a summer vacation. If you're writing about summer, be sure to follow the rules for proper capitalization of seasons in your writing.