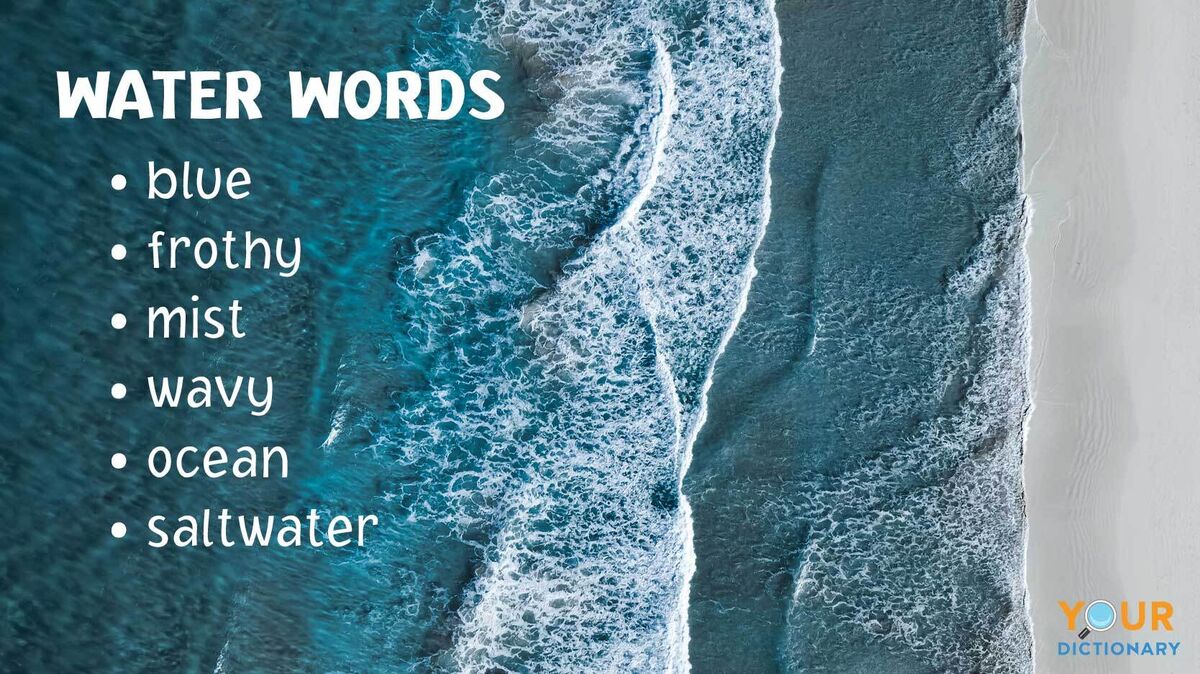 There's no reason to use the same word over and over when you're describing water in your writing. There are a lot of different words to describe water in all of its many forms. Discover a variety of options on this ultimate list of water words.
Describing the Appearance of Water
Some of the words to describe water paint a clear picture by explaining the appearance of water.
blue
calm
clean
clear
crystal clear
dirty
foamy
frothy
glassy
green
mirrored
mucky
muddy
murky
opaque
placid
serene
still
transparent
tranquil
turbid
wavy
Descriptive Terms for Bodies of Water
There are several types of bodies of water, each described by a unique name. Be sure you use the correct term for any body of water you're describing in your writing.
basin
bay
bayou
bog
canal
channel
coastal
cove
creek
deep sea
estuary
geyser
inlet
lake
lagoon
marsh
ocean
pool
pond
reservoir
river
rivulet
sea
tidal pool
waterway
Terms to Describe Different Types of Water
There are many types of water, some of which occur naturally and others that occur as a result of treatment or being used.
blackwater
briny
bottled
brackish
city
deionized
distilled
drinking
freshwater
greywater
mineral
municipal
potable
rainwater
saltwater
tab
wastewater
well water
Describing Water Movement
Water can be still or move in different ways. Using descriptive words to show how water moves can really clarify the setting in a story.
breaking
bottomless
burbling
choppy
crashing
cresting
current
dammed
eddy
flatwater
flowing
maelstrom
moving
rapids
rippling
rolling
rough
springs
stagnant
tempestuous
tide
trickle
undulating
whirlpool
Descriptive Terms for Water Depth or Level
The depth of water can vary greatly; some bodies of water are naturally very deep while others are more shallow. Water levels can rise or fall due to a variety of factors, including changing tides.
abyss
ebb tide
deep
flood stage
flooding
high
high tide
high water
low
low ebb
low tide
low water
overflowing
puddle
shallow
storm surge
surge
swollen
Words to Describe Water Temperature
Water can take on a wide variety of temperatures, from boiling hot to freezing cold.
boiling
burning hot
chilly
cold
frigid
hot
icy
lukewarm
sea surface temperatures
steamy
temperature
tepid
warm
Describing Water as Precipitation
Water sometimes takes the form of precipitation, so some words that describe water are weather-related terms.
barrage
coming down
deluge
downpour
drizzling
falling
mist
mizzle
pelting
rain
raindrops
rainfall
rainstorm
shower
sleet
storm
pouring
soaking
shower
spilled
sprinkling
squall
torrent
torrential
waterspout
Words That Describe the State of Water
Some terms that describe water refer to the state of water, such as whether substances have been added to or removed from the water.
carbonated
chlorinated
contaminated
effluent
filtered
flavored
littered
processed
muddy
polluted
purified
saline
salty
sparkling
sulfurous
treated
Words for Water Activities
There are a wide variety of water-related sports and activities that many people enjoy participating in.

boating
bodyboarding
canoeing
cliff diving
diving
fishing
floating
hydrofoiling
kayaking
paddleboarding
paddling
rafting
rowing
scuba diving
snorkeling
swimming
synchronized swimming
tubing
wading
wakeboarding
water aerobics
water ballet
water polo
windsurfing
Other Words to Describe Water
Some words that describe water don't fall neatly into one of the above categories. Discover several additional descriptive terms for water.

downstream
drinkable
drip
drop
droplet
fetid
fresh
holy
hose
hydrating
levy
navigable
passable
perilous
upstream
pure
runoff
spray
stale
stored
wild
Many Words to Describe Water
As you can see, there are a lot of different ways to describe water. Whether you're looking for the perfect word to describe the surface of water at a particular point in time under specific conditions or you're looking to precisely describe a particular body of water or type of water, there are plenty of options to consider. You'll be able to paint a very clear picture for readers when you carefully select descriptive terms from this list.
Boost Writing Quality With Descriptive Word Lists
Don't stop with looking for descriptive words for water. Make sure your writing is engaging and interesting to readers by using descriptive language throughout your work. Now that you have an extensive list of water words, seek other terminology to make your writing more vivid. Start by reviewing this list of descriptive words, which includes adverbs, adjectives and gerunds. From there, explore other descriptive word lists on a wide variety of topics. If you want to learn more about water from a scientific perspective, check out the properties of water.