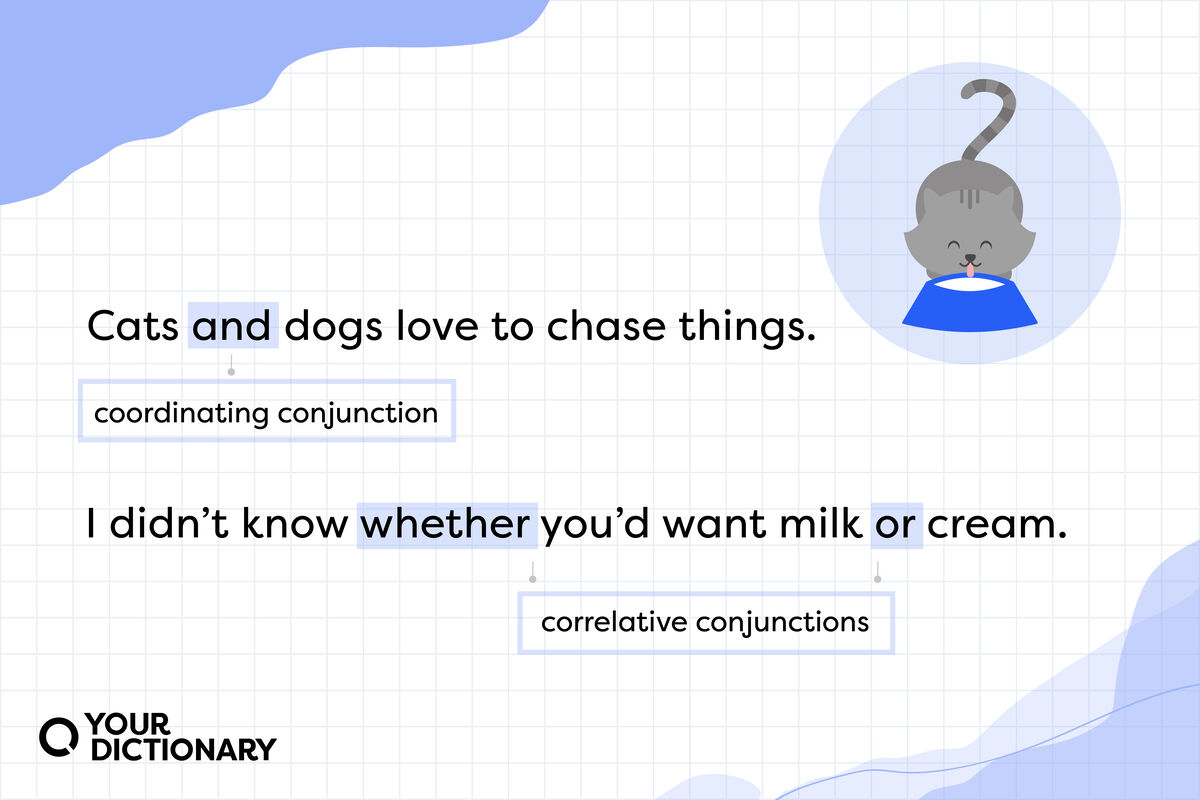 There's no magic spell to avoid grammar mistakes, but there is a part of speech that's sort of magical. Using conjunctions correctly can keep run-on sentences and fragments out of your writing, not to mention a host of other common errors. All you need to do to enchant your writing is learn the three different types of conjunctions and how they work.
Conjunctions join words, phrases, and clauses together. For example:
Cats and dogs love to chase things.
Tell me if my sister calls.
We finished the project, though it took all night.
My family may vacation in Hawaii, or they might take a trip to Colorado.
Depending on the type of conjunction, they may connect independent clauses (clauses that function as complete sentences) or dependent clauses (clauses that cannot stand as a full sentence).
There are three distinct types of conjunctions used in sentences: coordinating, subordinating, and correlative. Print out this types of conjunctions chart to serve as a reminder of what each type does.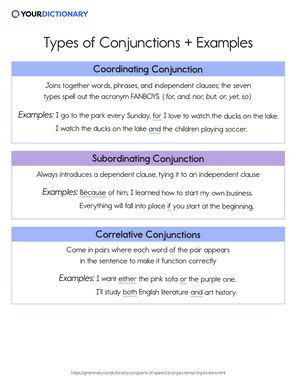 Coordinating Conjunctions
Coordinating conjunctions join together words, phrases, and independent clauses. The seven coordinating conjunctions spell out the acronym FANBOYS.
For - explains reason or purpose
And - adds one thing to another
Nor - used to present an alternative negative idea to an already stated negative idea
But - shows contrast
Or - presents an alternative or a choice
Yet - introduces a contrasting idea that follows the preceding idea logically
So - indicates effect, result, or consequence
Examples of Coordinating Conjunctions in Sentences
Example sentences using the seven coordinating conjunctions include:
I go to the park every Sunday, for I love to watch the ducks on the lake.
I watch the ducks on the lake and the children playing soccer.
I don't go for the fresh air nor for the ducks; I just like soccer.
Soccer is entertaining in winter, but it's better in the heat of summer.
The children play on two teams: blue or white.
I always take a book to read, yet I never seem to turn a single page.
I'm the mother of one of the players, so I watch the soccer game each week.
Subordinating Conjunctions
A subordinating conjunction always introduces a dependent clause, tying it to an independent clause. In English, there are lots of subordinating conjunctions. 
Common examples include:
although
as
because
before
how
if
once
since
than
until
when
whenever
whereas
whether
while
why
Examples of Subordinating Conjunctions in Sentences
Example sentences that use subordinating conjunctions include:
Because of him, I learned how to start my own business.
Everything will fall into place if you start at the beginning.
Until you try, you'll never know.
I add a new entry to my gratitude journal when I wake in the morning.
As I write this letter, I know I must say goodbye.
Life's been so happy since I moved to Chile.
Correlative conjunctions come in pairs, and each word from the pair appears in a sentence to make them work. Correlative conjunctions connect two equal grammatical terms.
Common pairs include:
both/and
whether/or
either/or
neither/nor
not/but
not only/but also
Examples of Correlative Conjunctions in Sentences
To best understand how to use correlative conjunctions correctly, read these sentence examples.
I want either the pink sofa or the purple one.
I'll study both English literature and art history.
I didn't know whether you'd want milk or cream, so I grabbed both.
Why do you want to visit neither Ireland nor Scotland?
I took not only the pink sofa but also the Tiffany lamp.
Not the cheeseburger for me, but definitely the fries.
Types of Conjunctions Quiz
Can you spot the conjunctions hiding in each sentence? Identify the type of each bolded conjunction.
Although we broke up, I still have feelings for Toby.
We went to both Yosemite and Yellowstone this summer.
Jessica doesn't eat meat, but she doesn't mind the smell of bacon.
The teacher had to choose whether she'd assign the student detention or just give her a warning.
I don't want to go to summer school, nor do I want to repeat this class.
We can't get married until we save enough money.
Because you damaged my car, I can't let you drive it again.
Holly is afraid of ghosts, so she never watches movies about haunted houses.
Types of Conjunctions Quiz
Although we broke up, I still have feelings for Toby. (subordinating conjunction)
We went to both Yosemite and Yellowstone this summer. (correlative conjunctions)
Jessica doesn't eat meat, but she doesn't mind the smell of bacon. (coordinating conjunction)
The teacher had to choose whether she'd assign the student detention or just give her a warning. (correlative conjunctions)
I don't want to go to summer school, nor do I want to repeat this class. (coordinating conjunction)
We can't get married until we save enough money. (subordinating conjunction)
Because you damaged my car, I can't let you drive it again. (subordinating conjunction)
Holly is afraid of ghosts, so she never watches movies about haunted houses. (coordinating conjunction)