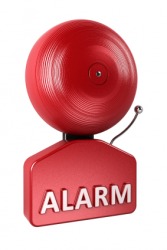 This alarm will sound a warning.
adjective
Warning describes something that alerts to possible danger.

An example of warning is a tornado siren; a warning siren.
noun
The definition of a warning is something that alerts to possible danger.

An example of a warning is a dog barking and growling in the middle of the night.
---
warning
the act of one that warns, or the state of being warned
something that serves to warn

Meteorol.

an official alert, as by the National Weather Service, that, variously, a tornado, severe thunderstorm, flash flood, etc. has been spotted or detected by radar in the area
that warns; serving to warn
---
warning
noun
A statement telling of or an indication providing evidence of impending danger, difficulty, or misfortune: The government issued a warning about unsafe drinking water. The shelf collapsed without any warning.
Advice to be cautious: a word of warning to runners about the hot weather.
A cautionary or deterrent example: The incident is a warning to careless investors.
adjective
Acting or serving to warn: a warning light; warning words.
Related Forms:
---
warning

Verb
Present participle of warn.
Noun
(plural warnings)
The action of the verb warn; an instance of warning someone.
Something spoken or written that is intended to warn.

The boss gave him a warning that he would be fired if he did not desist from his behaviour.
Interjection
Used to warn of danger in signs and notices.
---