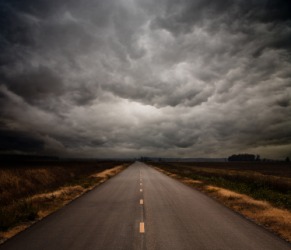 Very ominous clouds.
adjective
The definition of ominous is something that suggests bad things will happen soon.

An example of ominous is a dark cloud before a thunderstorm.
---
ominous
of or serving as an omen; esp., having the character of an evil omen; threatening; sinister
Origin of ominous
Classical Latin
ominosus
---
ominous
adjective
Menacing; threatening: ominous black clouds; ominous rumblings of discontent.
Of or being an omen, especially an evil one.
Origin of ominous
Latin
ōminōsus
from
ōmen
ōmin-
omen
Related Forms:
---
ominous

Adjective
(comparative more ominous, superlative most ominous)
Of or pertaining to an omen or to omens; being or exhibiting an omen; significant.
Specifically, giving indication of a coming ill; being an evil omen; threatening; portentous; inauspicious.
Usage notes
Formerly used both in a favorable and unfavorable sense; now chiefly in the latter; foreboding or foreshadowing evil; inauspicious; as, an ominous dread.
Nouns to which "ominous" is often applied: sign, silence, warning, cloud, note, sound, shadow, threat, music, tone, implication, message, presence, development, voice, portent, turn, sky, figure, dream, event, trend, change, day, beginning, growl, cry, signal, pattern.
---