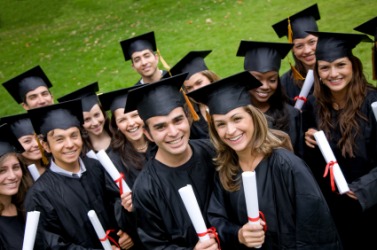 Graduation is an auspicious occasion.
adjective
The definition of auspicious is a situation that is positive or indicative of good things to come or is someone who is lucky.

An example of an auspicious occasion is a high school graduation.
An example of someone who is auspicious is a recent college graduate who gets a high paying job in his field after his first interview.
---
auspicious
of good omen; boding well for the future; favorable; propitious
favored by fortune; successful
Origin of auspicious
from Classical Latin
auspicium
(see auspice) + -ous
---
auspicious
adjective
Presenting favorable circumstances or showing signs of a favorable outcome; propitious: an auspicious time to ask for a raise.
Related Forms:
---
auspicious

Adjective
(comparative more auspicious, superlative most auspicious)
Of good omen; indicating future success.
Conducive to success.

This is an auspicious day.

Marked by success; prosperous.
---