adjective
The definition of unhappy is someone who is sad.

An example of unhappy is when a couple fights all the time and is considering getting divorced; an unhappy marriage.
YourDictionary definition and usage example. Copyright © 2013 by LoveToKnow Corp.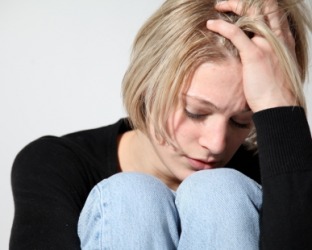 An unhappy woman.
Licensed from iStockPhoto
---
adjective
unhappier, unhappiest
unlucky; unfortunate
sad; wretched; sorrowful
not suitable or apt; ill-chosen

Obsolete

evil; reprehensible
Webster's New World College Dictionary
Copyright © 2010 by Wiley Publishing, Inc., Cleveland, Ohio.
Used by arrangement with John Wiley & Sons, Inc.
---
adjective
un·hap·pi·er
,
un·hap·pi·est
Not happy or joyful; sad or sorrowful: unhappy over his friend's departure.
Not satisfied; displeased or discontented: unhappy with her raise.
Not attended by or bringing good fortune; unlucky.
Not suitable; inappropriate: an unhappy choice of words.
Related Forms:
The American Heritage® Dictionary of the English Language
, 4th edition Copyright © 2010 by Houghton Mifflin Harcourt Publishing Company. Published by Houghton Mifflin Harcourt Publishing Company. All rights reserved.