ill

Ill.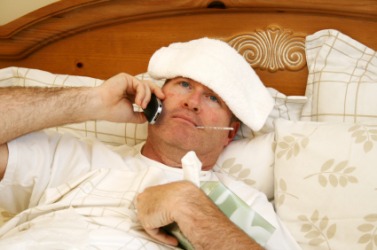 This man is ill.
adjective
Ill means sick or not healthy.

An example of an ill person is someone with pneumonia.
adverb
Ill is defined as in a bad or wrong way.

An example of ill used as an adverb is the phrase "ill advised" which means given improper or poor advice.
noun
The definition of an ill is an evil or a misfortune.

An example of an ill is a natural disaster like a flood.
---
ill
adjective
worse

,

worst
characterized by, causing, or tending to cause harm or evil; specif.,

morally bad or wrong; evil: a person of ill repute
causing pain, hardship, etc.; adverse: ill fortune
not kind or friendly; harsh; cruel: ill will
promising trouble; unfavorable; unfortunate; unpropitious: an ill omen

not healthy, normal, or well; having a disease; sick; indisposed
not according to rule, custom, desirability, etc.; faulty; imperfect: ill breeding
Origin of ill
Middle English from Old Norse
illr
(replacing Old English
yfel
, evil, in many senses): probably from Germanic an unverified form
ilhila
from Indo-European base an unverified form
elk-
, hungry, bad from source Old Irish
elc
, bad
evil or misfortune
anything causing harm, trouble, wrong, pain, unhappiness, etc.
adverb
worse

,

worst
in an ill manner; specif.,

badly; wrongly; improperly; imperfectly: ill-gotten gains
harshly; cruelly; unkindly: to speak ill of someone

Now Rare

with annoyance or offense: he took her remarks ill

with difficulty; scarcely: they can ill afford to refuse
illustrated
illustration
illustrator
Ill
---
ill
adjective
worse, worst,
Not healthy; sick: I began to feel ill last week.
Not normal; unsound: an ill condition of body and mind.
Resulting in suffering; harmful or distressing: the ill effects of a misconceived policy.

a. Resulting from or suggestive of evil intentions: ill deeds committed out of spite.

b. Ascribing an objectionable quality: holds an ill view of that political group.

c. Hostile or unfriendly: ill feeling between rivals.

d. Harmful; pernicious: the ill effects of a misconceived policy.

Not favorable; unpropitious: ill predictions.
Not measuring up to recognized standards of excellence, as of behavior or conduct: ill manners.
Slang Excellent; outstanding: Your new car is really ill!
adverb
worse, worst
In a bad, inadequate, or improper way. Often used in combination: My words were ill-chosen.
In an unfavorable way; unpropitiously: a statistic that bodes ill for job growth.
Scarcely or with difficulty: We can ill afford another mistake.
noun
Evil, wrongdoing, or harm: the ill that befell the townspeople.
Something that causes suffering; trouble: the social ills of urban life.
Something that reflects in an unfavorable way on one: Please don't speak ill of me when I'm gone.
used with a pl. verb Sick people considered as a group. Often used with the.
Origin of ill
Middle English
from
Old Norse
īllr
bad
ill.
abbreviation
illustrated
illustration
illustrator
Ill.
---
ill

---