gutter

gut·ter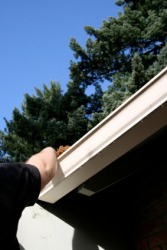 A man cleaning out the gutters on his house.
noun
The definition of a gutter is a narrow channel that directs and carries water to a specific location.

An example of a gutter is a metal trough attached to the roof of a house that collects and directs rain water away from the roof and the eaves.
An example of a gutter is a channel along the side of the road that carries water off the street to the sewer.
---
gutter
a channel along or under the eaves of a roof, to carry off rainwater
a narrow channel along the side of a road or street, to carry off water, as to a sewer
a place or state of living characterized by filth, poverty, squalor, etc.
a channel or groove like a gutter, as the groove on either side of a bowling alley
the adjoining inner margins of two facing pages in a book, magazine, etc.
Origin of gutter
Middle English
gotere
from Old French
gutiere
from Classical Latin
gutta
, a drop
to furnish with gutters; make gutters in
to flow in a stream
to melt rapidly so that the wax runs down the side in channels: said of a candle
---
gutter
noun
A channel at the edge of a street or road for carrying off surface water.
A trough fixed under or along the eaves for draining rainwater from a roof. Also called Also called regionally eaves trough . Also called rainspout . Also called spouting .
A furrow or groove formed by running water.
A trough or channel for carrying something off, such as that on either side of a bowling alley or that almost level with the water in some swimming pools.
Printing The white space formed by the inner margins of two facing pages, as of a book.
A degraded and squalid class or state of human existence.
verb
gut·tered, gut·ter·ing, gut·ters
verb
transitive
To form gutters or furrows in: Heavy rain guttered the hillside.
To provide with gutters.
verb
intransitive
To flow in channels or rivulets: Rainwater guttered along the curb.
To melt away through the side of the hollow formed by a burning wick. Used of a candle.
To burn low and unsteadily; flicker: The flame guttered in the lamp.
adjective
Vulgar, sordid, or unprincipled: gutter language; the gutter press.
Origin of gutter
Middle English
goter, guter
from
Old French
gotier
from
gote
drop
from
Latin
gutta
Our Living Language
Certain household words have proved important as markers for major US dialect boundaries. The channels along the edge of a roof for carrying away rainwater (normally referred to in the plural) are variously known as
eaves troughs
in parts of New England, the Great Lakes states, and the West;
spouting
or
rainspouts
in eastern Pennsylvania and the Delmarva Peninsula; and
gutters
from Virginia southward. Historically, along the Atlantic coast, the transition points have marked unusually clear boundaries for the three major dialect areas—Northern, Midland, and Southern—traditionally acknowledged by scholars of American dialects. Nowadays, however, Southern
gutters
has become widely established as the standard US term.
andiron
---
gutter

---
gutter - Computer Definition
In typography, the space between two columns.
---