garland

Gar·land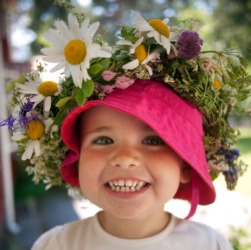 A child with a garland of flowers on her hat.
noun
The definition of garland is a wreath of or chain of flowers or leaves for decoration.

An example of a garland is a chain of flowers draped around a mirror.
verb
Garland is defined as to create or decorate with a wreath or chain of flowers or leaves.

An example of garland is to hang a chain of leaves above the front door.
---
garland
a wreath or woven chain of flowers, leaves, etc. worn on the head or used as decoration, esp. as a symbol of victory, honor, etc.
anthology of poems, songs, etc.

Naut.

a band or ring of rope used as to hoist spars or prevent chafing
Origin of garland
Middle English from Old French
garlande
to form into or decorate with a garland or garlands
Garland
1860-1940; U.S. novelist & short-story writer

(born Frances Gumm) 1922-69; U.S. film actress & singer
Garland
city in NE Tex.: suburb of Dallas
Origin of Garland
after A. H.
Garland
, United States attorney general (1885-89)
---
garland
noun
a. A wreath or festoon, especially one of plaited flowers or leaves, worn on the body or draped as a decoration.

b. A representation of such a wreath or festoon, used as an architectural ornament or heraldic device.

A mark of honor or tribute; an accolade: received garlands of praise.
Nautical A ring or collar of rope used to hoist spars or prevent fraying.
An anthology, as of ballads or poems.
transitive verb
gar·land·ed, gar·land·ing, gar·lands
To ornament or deck with a garland.
To form into a garland.
Origin of garland
Middle English
from
Old French
garlande
perhaps of Germanic origin
; see
wei-
in Indo-European roots.
Garland
A city of northeast Texas, an industrial suburb of Dallas.x
---
garland

Noun
(plural garlands)
(mining) A metal gutter placed round a mine shaft on the inside, to catch water running down inside the shaft and run it into a drainpipe.
The top; the thing most prized.

(nautical) A sort of netted bag used by sailors to keep provisions in.
Verb
(third-person singular simple present garlands, present participle garlanding, simple past and past participle garlanded)
To form something into a garland
Origin
From Old French gerlande (compare French guirlande).
---