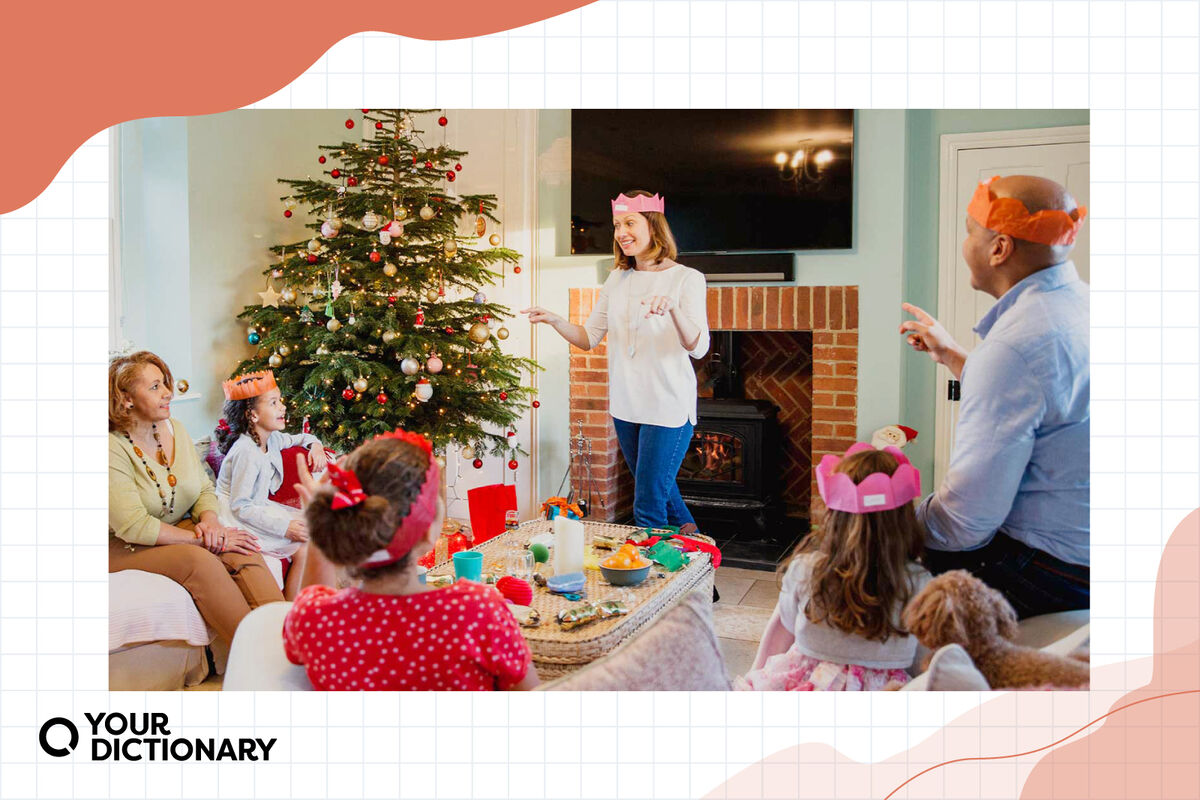 Playing Christmas charades is a great activity for holiday gatherings. Whether you're looking for something fun to do with your family, friends, a youth group, or other get-together, you're sure to have a great time. Learn how to play and download a Christmas charades list to help keep the good times going for hours.
Christmas Charades List Ideas
Before you can start playing Christmas charades, you'll need a good list of Christmas words and phrases for participants to act out. You can go with a single theme throughout the game or mix and match all kinds of holiday-focused sayings.
Christmas Traditions for Charades
Phrases describing popular Christmas traditions are ideal to use for a game of charades focused on holiday cheer. You might even want to include some Christmas puns.
caroling door to door
cookies and milk for Santa
getting pictures taken with Santa
hanging stockings on the mantel
kissing under mistletoe
putting up a Christmas tree
setting up a nativity scene
shopping for Christmas gifts
stringing popcorn garland
writing letters to Santa
12 Days of Christmas Charades
Consider including options from The Twelve Days of Christmas in your list of phrases.
ten lords a leaping
eleven pipers piping
twelve drummers drumming
eight maids a milking
five gold rings
four calling birds
nine ladies dancing
partridge in a pear tree
seven swans a swimming
six geese a laying
three French hens
two turtle doves
Titles of popular Christmas carols are also a great option to use in a holiday charades game. For charades, it's best to stick with song titles that have at least three words in them so participants have enough words to act out.
Angels We Have Heard on High
Do You Hear What I Hear?
I Heard the Bells on Christmas Day
I Saw Mommy Kissing Santa Claus
It Came Upon a Midnight Clear
Go Tell it on the Mountain
Grandma Got Run Over by a Reindeer
Rockin' Around the Christmas Tree
Rudolph, the Red Nosed Reindeer
We Wish You a Merry Christmas
Christmas Movie and TV Shows Titles
Songs aren't the only entertainment form associated with Christmas. There are many wonderful Christmas movies and television shows, from big screen blockbusters and cartoons to heartwarming made for TV or direct-to-streaming delights. As with the songs, choose movies with titles long enough to make for a good charades experience.
A Bad Moms Christmas
A Charlie Brown Christmas
Grumpy Cat's Worst Christmas Ever
How the Grinch Stole Christmas
It's a Wonderful Life
Miracle on 34th Street
National Lampoon's Christmas Vacation
Santa Claus is Comin' to Town
The Most Wonderful Time of the Year
The Nightmare Before Christmas
Printable Christmas Charades List
Download a Christmas charades printable word list that includes the ideas mentioned above along with many additional options. Just click the image below to open a Christmas charades printable that you can print and/or save for future reference. If you need assistance with the printable, review this guide to printables.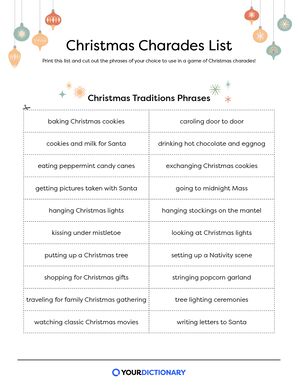 How To Play Christmas Charades
With a little set-up and pre-planning, it's super easy to incorporate a seasonal game of charades into any Christmas gathering.
Gather these items in advance of the game.
phrases/concepts for the players to act out on strips of paper
container to hold cut-outs of phrases/concepts
paper
pen or pencil
timer
Basic Charades Instructions
Charades involves individuals, pairs or teams acting out phrases or concepts without speaking or making any sounds. Other players try to guess what the actors are trying to say within a certain period of time. Whoever guesses first wins that round. There are different options; choose the one most appropriate for the size and composition of your group.
Put all of the cut-outs of phrases/concepts that will be used in the game in a container.
Decide who is going to be the scorekeeper.
Decide who is going to go first to act out a phrase. You could take volunteers or assign numbers and draw a number out of a container to see who goes first.
Have the first actor pull an item out of the container. That person should not show his or her slip of paper to anyone else, but should keep it to reveal at the end of their turn.
From the time the item is pulled from the container, the actor is not allowed to speak.
Set the timer for the length of time the actor will have to try to act out the phrase. It's up to you to decide how long to allow each actor. Five minutes is a good length, but you could also go a bit shorter or longer. The timeframe should be the same for everyone.
The actor can hold up a number of fingers to let the others know how many words are in the phrase they are acting out, as well as to specify which particular word (first, second, third, etc.) is being acted out.
From there, the actor can use movement, gestures or other nonverbal communication to act out what is on the piece of paper.
The other participants can start trying to guess immediately, yelling out what they think is on the piece of paper based on the actor's actions.
Whoever guesses first wins and gets a point, which the scorekeeper should record.
The first round is over, so it's time for the second actor to draw a phrase and start acting.
Repeat until everyone has had a turn to be the actor. If you have time, you can repeat the process, though you should be sure that each player has the same number of turns as the actor.
Whoever has the most points at the end of the game is the winner. Consider making a Christmas crown for the champion(s) to wear throughout the rest of the party or award some other type of prize or recognition.
Variations for Playing Based on Group Size
Depending on the number of people attending the party who want to participate in charades, you may want to set up your game of charades for individual play, pair play or group play.
individual - Each participant plays individually, both for acting out the phrase and attempting to guess when others are acting. This is ideal for small gatherings.
pairs - This option involves dividing the group into pairs, so that teams of two people work together to act out and guess. It requires an even number of participants.
teams - Ideal for large groups of 15 or more, this approach involves dividing participants into small groups (3-5 people) that will work together throughout the game.
If you opt for the pair or team option, allow time for the people who are working together to consult prior to acting out their phrases.
While charades is a great option for holiday gatherings, it's certainly not the only one. For example, you could use the Christmas charades list to complete sketches on a flip chart rather than acting out concepts or phrases in a do-it-yourself Christmas Pictionary version. Or, if you're looking for a more quiet activity to help keep the kids entertained, check out these Christmas word scrambles. Not only are they fun and seasonal, they're also educational.