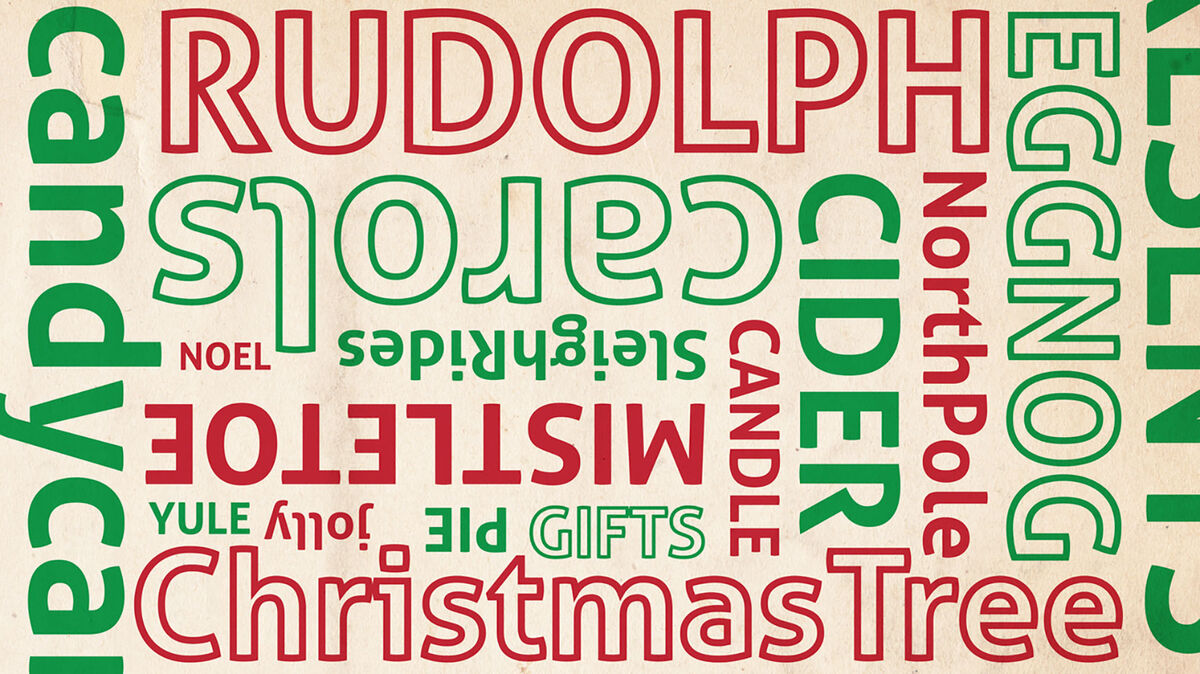 Bring the magic of Christmas and the fun of wordplay together! These Christmas word scrambles and word games are fun for merrymakers of all ages. Use the printables for classroom activities, Christmas party games or fun ways to get into the holiday spirit. No matter how you choose to use your Christmas word scrambles, everyone will have a holly jolly time doing it!
Individual Christmas Word Scrambles and Games
If you're planning a Christmas activity that students or party guests can complete individually, you'll find lots of fun games on the "nice" list! Just print them up or follow the instructions to plan engaging and entertaining activities for individuals.
Printable Christmas Word Scramble
This Christmas letter scramble activity features a series of scrambled letters. When they are unscrambled, they create Christmas-themed vocabulary words. It's a classic for a reason; children (and adults) of all ages love to solve letter scrambles!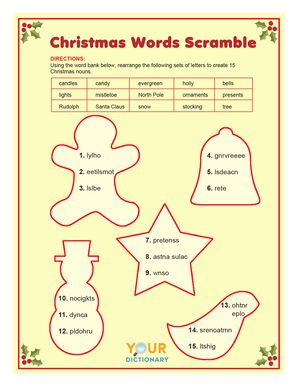 Printable Christmas Sentence Scramble
This activity is probably the trickiest of them all. Students look at a sentence full of jumbled words and have to reorder them into correctly-constructed sentences that celebrate the joy of the season. Check out the answer key; some sentences have more than one possible response.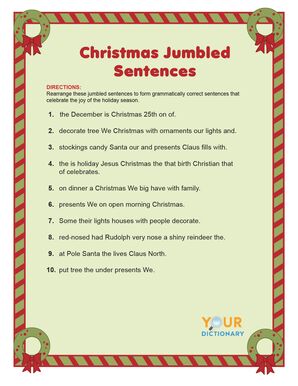 Everyone loves a game of Mad Libs! If you can't find a game of Christmas Mad Libs to get you in the holiday spirit, make your own version with these easy instructions.
Find your favorite Christmas poem or story.
Remove 15-20 words from it with Wite-Out or in a Word document.
If you want, indicate which part of speech participants should fill in.
Copy the document or print out several copies.
Pass out the poem or story and let everyone fill in their own.
When everyone is done, have them share their work. The funniest story wins!
Who doesn't love a classic word search? It calms the soul and soothes the mind. Print out any or all of these Christmas word searches that are sure to bring holiday cheer to any word lover.
Team Christmas Word Scrambles and Games
Are you planning a Christmas classroom activity or finding the perfect team game for a Christmas party? Either way, these Christmas games especially designed for teams are fun and engaging for everyone.
Printable Christmas Scramble Game
Both students and partygoers will love this activity. It's a great seasonal option when you want to spice things up from your ordinary spelling bee!
Cut out the letters on the second page before starting the game.
Create small teams of 3-4 people.
Pass out the letter cards to each team.
When you read a Christmas word, each team works together to spell it out with their cutout letters.
Give the first team to spell the word correctly a point.
Have them mix up the letters again and give them a new word.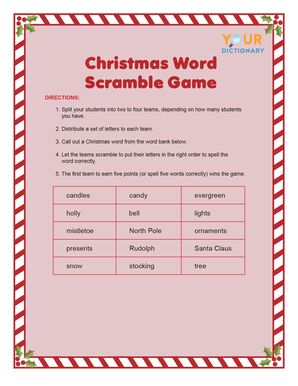 Christmas Pictionary Game
A picture's better than a thousand words. In this Christmas Pictionary game, you start with one word and end with a festive picture! It's a great getting-to-know-you game in a class or holiday party.
Make two copies of a list of Christmas words, enough for every person to have one word.
Cut out the words and mix them up.
Give one word to each person.
Set a timer and challenge each person to find the other person with the matching word.
When partners find each other, have them work together to draw their Christmas word.
After the timer goes off, let each set of partners share their drawing and see if people can guess what their word was.
If their picture is guessed correctly, they earn a point.
This helpful Christmas charades printable will set your students up for a wonderful round of charades. All the prompts are listed on the site; just toss them into Santa's red hat and let willing participants act out each prompt.
Bingo is fun all year long! Use these Christmas Bingo cards to get everyone excited about the holiday. You can print them up on red and green cardstock to use many years in a row!
Christmas Cheer for Everyone
There's such a sense of delight in the air when Christmas is around the corner. Isn't it wonderful to be able to maximize that jovial feeling with a little language learning fun? When the scrambling is done, consider moving on to journaling or other DIY activities. Students can take this time to reflect on what they're grateful for and make their own Christmas greeting cards for friends and loved ones.