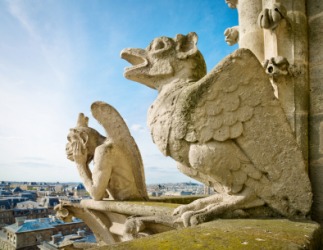 A pair of gargoyles.
noun
The definition of a gargoyle is a grotesquely carved figure or face that is often used as a waterspout on a building by extending it off the gutter of the building to allow for water to be directed away from the wall.

The carved figures on the gutters atNotre Dame cathedral in France are an example of gargoyles.
---
gargoyle
a waterspout, usually in the form of a grotesquely carved animal or fantastic creature, projecting from the gutter of a building
a projecting ornament (on a building) that looks like this
a person with grotesque features
Origin of gargoyle
Middle English
gargule
, throat from Old French
gargouille
: see gargle

---
gargoyle
noun
A roof spout usually in the form of a grotesque or fantastic creature projecting from a gutter to carry rainwater clear of the wall.
A grotesque ornamental figure or projection.
A person of bizarre or grotesque appearance.
Origin of gargoyle
Middle English
gargoile
from
Old French
gargole, gargouille
throat, waterspout
Related Forms:
---
gargoyle

Origin
From Old French gargouille.
---