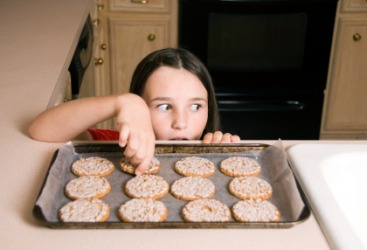 This girl is up to mischief.
noun
Mischief is playful and often harmless wrongdoing, pranks or bad behavior.

An example of mischief is the mild bad behavior by someone who is up-to-no-good.
---
mischief
harm, damage, or injury, esp. that done by a person
a cause or source of harm, damage, or annoyance; specif.,

action or conduct that causes damage or trouble
a person causing damage or annoyance

a tendency or disposition to annoy or vex with playful tricks

a troublesome or annoying act; prank; playful, vexing trick
playful, harmless teasing
Origin of mischief
Middle English
meschief
from Old French from
meschever,
to come to grief from
mes-
(see mis-) +
chever,
come to a head from
chief,
end, head (see chief)
---
mischief
noun
Behavior that causes annoyance or difficulty: tried to keep the kids from engaging in any mischief.

a. Damage, destruction, or injury caused by a specific person or thing: the mischief done by a faulty gene.

b. Archaic A specific injury or harm done: "Instead of doing them a service, you meant to do them a mischief?" ( Charles Dickens )

The inclination or tendency to play pranks or get into trouble: eyes that gleamed with mischief.
Origin of mischief
Middle English
mischef
from
Old French
meschief
misfortune
from
meschever
to end badly
mes-
badly
; see
mis-
1
.
chever
to happen, come to an end
(
from
Vulgar Latin
capāre
to come to a head
) (
from
capum
head
) (
from
Latin
caput
; see
kaput-
in Indo-European roots.)
---
mischief

Noun
(plural mischiefs)
Harm or evil caused by an agent or brought about by a particular cause.
One who causes mischief. In a milder sense, one who causes petty annoyances. mischief-maker.
Vexatious or annoying conduct.
---