precaution

pre·cau·tion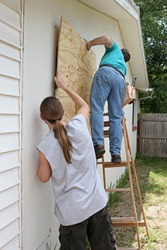 Two men putting plywood over windows in preparation of a storm as a precaution.
noun
The definition of a precaution is something done in advance in order to protect against a danger or hazard.

Putting boards over the windows to prevent break-ins is an example of a precaution.
---
precaution
care taken beforehand; caution used in advance
a measure taken beforehand against possible danger, failure, etc.
Origin of precaution
French
précaution
from Late Latin
praecautio
from Classical Latin
praecautus
, past participle of
praecavere
from
prae-
, before (see pre-) +
cavere
, to take care: for Indo-European base see hear
---
precaution
noun
An action taken in advance to protect against possible danger, failure, or injury; a safeguard: followed safety precautions when using heavy machinery.
Caution practiced in advance; forethought or circumspection: a need for precaution when planning a vacation.
Origin of precaution
Late Latin
praecautiō
praecautiōn-
from
praecautus
past participle of
Latin
praecavēre
to guard against
prae-
pre-
cavēre
to beware
---
precaution

Noun
(plural precautions)
Previous caution or care; caution previously employed to prevent mischief or secure good; as, his life was saved by precaution.
A measure taken beforehand to ward off evil or secure good or success; a precautionary act.

to take precautions against risks of accident
Verb
(third-person singular simple present precautions, present participle precautioning, simple past and past participle precautioned)
: To warn or caution beforehand. --Locke.
(rare): To take precaution against. --John Dryden.
---