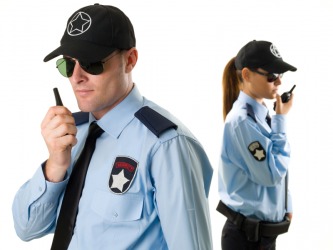 Two security guards.
noun
The definition of a guard is a person or device that protects.

An example of a guard is a security person at a bank.
An example of a guard is a pad worn on the shins of a soccer player.
verb
Guard is defined as to keep safe, protect or cover.

An example of guard is for a vaccination to protect against disease.
An example of guard is to keep someone on the opposing team from scoring.
---
guard
to keep safe from harm; watch over and protect; defend; shield
to watch over; specif.,

to keep from escape or trouble
to hold in check; control; restrain

Sports

to keep (an opponent) from making a gain or scoring; also, to cover (a goal or area) in defensive play
to supervise entrances and exits through (a door, gate, etc.)

to cover (a piece of machinery) with a device to protect the operator

Archaic

to escort
Origin of guard
Late Middle English
garde
from the noun
to keep watch; take precautions (against)
to act as a guard
the act or duty of guarding; careful watch; wariness; defense; protection

a posture of alert readiness for defense, as in boxing, fencing, etc.
the arms or weapon in such a posture

any device that protects against injury or loss; specif.,

the part of the handle of a sword, knife, or fork that protects the hand
a chain or cord attached to a watch, bracelet, etc. to protect against loss
a ring worn to keep a more valuable ring from slipping off the finger
a safety device, as in machinery
an article worn to protect a part of the body, as in a sport: a catcher's shin guards

a person or group that guards; specif.,

a sentinel or sentry
a railway brakeman or gatekeeper

Brit.

a railroad conductor
a person who guards prisoners
[pl.] a special unit of troops assigned to the British royal household
a military unit with a special ceremonial function: a color guard

Basketball

either of two players who are the main ball handlers and offensive leaders positioned at the rear of the court on offense

see also point guard

Football

either of two players on offense at the left and the right of the center whose purpose is blocking

see also nose guard
Origin of guard
ME
garde
< OFr
garder
, to protect < Gmc *
wardon
(> Ger
warten
, to wait) < IE base *
wer-
, to heed > ware, L
vereri
, to fear
off (one's) guard
not alert for protection or defense
on (one's) guard
alert for protection or defense; vigilant
---
guard
verb
guard·ed, guard·ing, guards
verb
transitive
a.

To watch over (a place or person, for example) in order to keep from being damaged, robbed, or injured:

guard a bank; guarding a witness.

See Synonyms at

defend

.

b. To supervise the entry and exit through; keep watch at: guard a door.

c. To watch over so as to prevent escape or violence: guard a prisoner.

d. To keep from risk or curtailment; ensure the safety or integrity of: jealously guarded his success; carefully guarded her privacy.

Sports To keep (an opposing player) from scoring or playing effectively, usually by remaining close to the player to disrupt offensive play.
To maintain control over, as to prevent indiscretion: Guard what you say.
To furnish (a device or object) with a part that protects people from harm or injury.
Archaic To escort as a guard.
verb
intransitive
To take precautions: guarded against illness by getting exercise.
To serve as a guard.
noun
A person who protects, keeps watch, or acts as a sentinel: a prison guard.

a. The act or duty of guarding.

b. Protection; watch: The sheepdog kept guard over the herd.

Something that gives protection; a safeguard: a guard against tooth decay.
A device or attachment that prevents injury, damage, or loss, especially:

a. An attachment or covering put on a machine to protect the operator or a part of the machine.

b. A device on a foil, sword, or knife that protects the hand.

c. A padded covering worn to protect a body part from injury: a shin guard.

d. A small chain or band attached to a watch or bracelet to prevent loss.

e. A ring worn to prevent a more valuable ring from sliding off the finger.

An honor guard.
Chiefly British A railway employee in charge of a train.
Football One of the two offensive linemen on either side of the center.
Basketball Either of the two players normally positioned in the backcourt who are responsible for bringing the ball to and initiating offensive plays from the frontcourt.
Sports A defensive position or stance, as in boxing or fencing.
Electronics A signal that prevents accidental activation of a device or ambiguous interpretation of data.
Origin of guard
Middle English
garden
from
Old French
garder, guarder
of Germanic origin
; see
wer-
3
in Indo-European roots.
Related Forms:
---
guard

Noun
(plural guards)
A person who, or thing that, protects or watches over something.

The prison guard unlocked the door of the cell.   After completing the repairs, he replaced the sump guard.

(military) A squad responsible for protecting something.

The president inspected the guard of honour.

A part of a machine which blocks access to dangerous parts.

The motorcycle mechanic removed the damaged chain guard.

(cricket) The position on the popping crease where a batsman makes a mark to align himself with the wicket; see take guard.
(American football) Either of two offensive positions between the center and each of the offensive tackles, whose main responsibilities are to protect the quarterback, and open up "holes" through which offensive players can run.
(sports) A player playing a position named guard.
(rail transport) An employee, normally travelling in the last vehicle of a train, responsible for the safety of the train.
Verb
(third-person singular simple present guards, present participle guarding, simple past and past participle guarded)
To protect from danger; to secure against surprise, attack, or injury; to keep in safety; to defend.
To keep watch over, in order to prevent escape or restrain from acts of violence, or the like.

Guard the prisoner.

To watch by way of caution or defense; to be caution; to be in a state or position of defense or safety.

Careful people guard against mistakes.

To protect the edge of, especially with an ornamental border; hence, to face or ornament with lists, laces, etc.
Origin
For verb: From early Middle French or late Old French (circa 14th cent) guarder ("to keep, ward, guard, save, preserve, etc."), from Frankish *wardōn (from Proto-Germanic *wardo-), cognate with Old English weardian (from which English to ward). Compare French garder. See also English regard.
For noun: From Middle English garde, from early Middle French or late Old French guarde ("a guardian, warden, keeper") (whence modern French garde), from the verb guarder.
---