defend

de·fend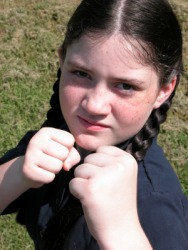 This little girl is ready to defend herself.
verb
Defend is defined as to stand up for, protect or guard.

An example of defend is to stand up for a person who is being picked on by bullies.
---
defend
to guard from attack; keep from harm or danger; protect
to protect (a goal, etc.) against scoring by an opponent

to support, maintain, or justify: defend one's conduct

Law

to oppose (an action)
to plead (one's cause) in defense
to act as lawyer for (an accused)
Origin of defend
Middle English
defenden
from Old French
defendre
from Classical Latin
defendere
, to ward off, repel from
de-
, away, from +
fendere
, to strike from Indo-European base an unverified form
gwhen-
, to strike from source Classical Greek
theinein
, to kill, strike, Old English
guth
, combat
---
defend
verb
de·fend·ed, de·fend·ing, de·fends
verb
transitive
a. To make or keep safe from danger, attack, or harm: a vaccine to defend the body from infection.

b. To engage in or be prepared to engage in battle to prevent (a population or area, for example) from being captured or occupied by an enemy.

Sports

a. To attempt to prevent the opposition from scoring while playing in or near (a goal or area of a field, for example).

b. To be responsible for guarding (an opposing player).

To compete against a challenger in an attempt to retain (a championship).
To support or maintain, as by argument or action; justify: defended his friend's behavior.
Law

a. To represent (a defendant) in a civil or criminal action.

b. To attempt to disprove or invalidate (the claim made by a lawsuit or prosecution): defend a class action; defend a criminal case.
verb
intransitive
To make a defense.
Sports To play defense.
Origin of defend
Middle English
defenden
from
Old French
defendre
from
Latin
dēfendere
to ward off
; see
gwhen-
in Indo-European roots.
Related Forms:
---
defend

Verb
(third-person singular simple present defends, present participle defending, simple past and past participle defended)
To ward off attacks from; to fight to protect; to guard.
(law) To make legal defence of; to represent (the accused).
(sports) To focus one's energies and talents on preventing opponents from scoring, as opposed to focusing on scoring.
(sports) To attempt to retain a title, or attempt to reach the same stage in a competition as one did in the previous edition of that competition.
Origin
Middle English defenden, from Old French deffendre (Modern: défendre), from Latin dēfendō ("to ward off").
See also:
defënd
---
defend - Legal Definition
v
In litigation, to oppose a claimant's case; to advance or protect one's own adverse interests. Also, as an attorney, to represent the defendant in a criminal case or civil proceeding.
---