shield

shield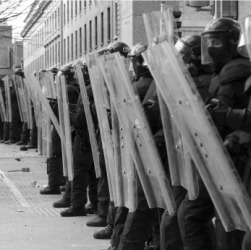 Riot police standing behind their shields
noun
The definition of a shield is a person or thing that protects, blocks, guards or defends.

An example of a shield is the flat piece of metal carried by riot police to protect their bodies against protesters.
An example of a shield is the front window of a car.
An example of a shield is a soccer goalie.
---
shield
a flat, usually broad, piece of metal, wood, etc., carried in the hand or worn on the forearm to ward off blows or missiles
any person or thing that guards, protects, or defends
a heraldic escutcheon
anything shaped like a triangular shield, broad at the top and with curved sides, as an escutcheon, plaque, trophy, badge, or emblem
a heavy metal screen attached to an artillery piece for the protection of the gunners

a guard or safety screen, as over the moving parts of machinery
an insulating covering on electric wires, etc.
any material or structure used for protection against radiation

dress shield

Zool.

a hard surface covering or shell; protective plate, as on a turtle
Origin of shield
Middle English
schelde
from Old English
scield
, akin to German
schild
from Germanic an unverified form
skild-
from Indo-European base an unverified form
(s)kel-
from source shelf
to be or provide a shield for; defend; protect; guard
to hide from view; screen
to serve as a shield, or protection

---
shield
noun
A broad piece of armor made of rigid material and strapped to the arm or carried in the hand for protection against hurled or thrusted weapons.
A person or thing that provides protection.
A protective device or structure, as:

a. A steel sheet attached to an artillery piece to protect gunners from small-arms fire and shrapnel.

b. Physics A wall or housing of concrete or lead built around a nuclear reactor to prevent the escape of radiation.

c. Electronics A structure or arrangement of metal plates or mesh designed to protect a piece of electronic equipment from electrostatic or magnetic interference.

d. A pad worn, as at the armpits, to protect a garment from perspiration.

e. A sanitary napkin.

Zoology A protective plate or similar hard outer covering; a scute or scutellum.
Something that resembles a shield, as:

a. An escutcheon.

b. A decorative emblem that often serves to identify an organization or a government.

c. A police officer's badge.

Geology The ancient, stable, interior layer of continents composed of primarily Precambrian igneous or metamorphic rocks. Also called continental shield .
verb
shield·ed, shield·ing, shields
verb
transitive
To protect from being attacked, exposed to danger, or subjected to difficulty: "a policymaking elite whose families and purses are shielded from the sacrifices war entails" ( Uwe E. Reinhardt ) See Synonyms at defend.
To cover up; conceal: "Though many eyes were watching, none could pierce the halo of morning sunlight that surrounded and shielded the hawk" ( Peter Dunne )
verb
intransitive
To act or serve as a shield or safeguard.
Origin of shield
Middle English
sheld
from
Old English
scield
; see
skel-
1
in Indo-European roots.
Related Forms:
shield
Masai warrior with spear and shield
---
shield

Noun
(plural shields)
Anything which protects or defends; defense; shelter; protection.

A broad piece of defensive armor, carried on the arm, formerly in general use in war, for the protection of the body.
Figuratively, one who protects or defends.
(lichenology) In lichens, a hardened cup or disk surrounded by a rim and containing the fructification, or asci.
(mining) A framework used to protect workmen in making an adit under ground, and capable of being pushed along as excavation progresses.
(science fiction) A field of energy which protects or defends.

Something shaped like a shield, usually an inverted triangle with slightly curved lower sides.

(heraldry) The escutcheon or field on which are placed the bearings in coats of arms.
(transport) A sign or symbol, usually containing numbers and sometimes letters, identifying a highway route.

(geology) A large expanse of exposed stable Precambrian rock.
Origin
From Middle English shelde, from Old English scield ("shield"), from Proto-Germanic *skelduz ("shield"), from Proto-Indo-European *(s)keit-, *(s)keid-, *kheit- ("shield, cover"). Cognate with West Frisian skyld, Dutch schild ("shield"), German Schild ("shield"), Danish skjold ("shield"), Icelandic skjöldur ("shield"), Latin scÅ«tum ("shield"), Irish sciath ("shield"), Latgalian Å¡kÄ«da ("shield"), Lithuanian skydas ("shield"), Russian щит (ščit, "shield").
Verb
(third-person singular simple present shields, present participle shielding, simple past and past participle shielded)
To protect, to defend.
(electricity) to protect from the influence of
Origin
From Old English scieldan.
---
shield - Computer Definition

A covering, sheath, or screen designed to protect a signal traveling over a conductor from electromagnetic interference (EMI) due to the unwanted coupling of extraneous signals.The shield is in the form of a conductive metal foil, screen, or braid that surrounds a conductor or group of conductors. A dielectric material insulates the conductors from each other and from the shield, which essentially is an outer conductor that intercepts extraneous signals and conducts them to ground. Therefore, the shield must be continuous and must be grounded via a ground wire, or drain wire.To ensure electrical continuity, the shield must be bonded at any splice points and the shield must be bonded to the ground wire, strap, or rod. Coaxial cable, screened twisted pair (ScTP), and shielded twisted pair (STP) are examples of shielded transmission media in telecommunications applications. See also coaxial cable, dielectric, EMI, ground wire, ScTP, and STP.
---
---